Love is Patient, Love is Kind
March 27, 2023
The idea of a perfect love story looks different to everyone. Love comes in the purest forms and can be maneuvered gracefully with the right partner. For one Millikin professor, careful communication and collaboration has shaped a beautiful relationship.
Tony Magagna is from Rock Springs, Wyoming and grew up amongst the mountains. While his mother's side is primarily from Wyoming, his father's side immigrated from Northern Italy. Magagna has two sisters, one older and one younger. His family still resides primarily in Wyoming while he lives in Decatur, Illinois mostly. He studied his undergrad at the University of Wyoming and got his PhD from the University of California-Davis, where he met his lovely wife, Juli Case. 
Case and her family moved around multiple times while she grew up. Case was born nearby Champaign IL, but the family moved to Germany when she was very young before returning to the United States and settling in Pennsylvania. After resettling in the US, her parents separated. Her mother and sister now live in Kansas City while her father remains in Pennsylvania. 
The pair met from playing ultimate frisbee competitively during their time at the University. The pair started a friendship that would then lead to a relationship. Case described how blessed and thankful she was for her career, because ultimately it led to her person.  
During the start of their relationship, both Case and Magagna committed to each other early on. After just two months of dating, the couple chose to skydive one afternoon in Northern California. 
Magagna said, "This really set the tone for our relationship." With that experience, they subtly agreed that they could not have done it without each other.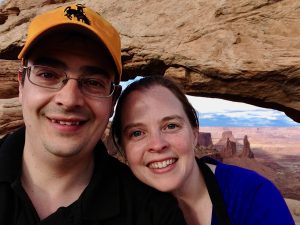 Shortly after, Case was off to Germany to teach and write abroad. Case was in Germany from 2006-2007. When Case returned home from Germany, the couple moved in together. While they were cohabitating, Case taught at a community college while Magagna finished his PhD. 
 On an extremely hot day in the summer of 2009, they were married in Yolo County in Northern California. Unfortunately for the couple, their careers forced them apart again a few months later.  
For the first year of their marriage, they were roughly in the same area for no longer than 72 hours, with the exception of academic holidays and breaks. 
Case said, "As far as the distance relationship goes it's definitely not the best thing, but we have been doing it for a while, so we know how to make it work." 
It seemed like there was never a "right" time for them, but this never held down their marriage in any way. 
Magagna looked many places to teach at from the east coast, to down south, but made the decision to come to Millikin in 2009 because it was the best option. During this time Case taught in Texas for one year before moving to Decatur to join Magagna at Millikin.  
When they first started living together it was a challenge. 
Magagna said, "Our first trip to the grocery store was rough, we wanted completely different things. You can learn a lot about a person when you go grocery shopping with them for the first time."  
Case was an adjunct faculty member at Millikin for several years, during which time both she and Magagna lived again in Germany for a year in 2012-2013, while he was teaching abroad on a Fulbright Fellowship.  
 Once back in Illinois, Case reflected and realized she wanted to pursue her PhD. Case relocated to Cincinnati in 2015. While Case was finishing up her PhD, Magagna went on another Fulbright to Japan in 2018-2019. After graduating in 2019 with her PhD, Case began searching for full-time teaching positions. She got a job at the University of Wisconsin-Green Bay teaching creative writing and interactive media. 
While visiting Magagna in Japan, Case was offered the UWGB position. Case began working full-time at the University in the Fall of 2019. Since her arrival, Case has founded and is the head of the Center for Games and Interactive Media.  
This then led to the distance between them once again. 
Magagna said, "We've been married for roughly for 13 years, and I think we've actually only lived together in one place for about half of that." 
Distance has been most of what the couple has known to succeed on their own paths.  
Their love has been stretched far and wide, but in a good way. The year of COVID-19 they found a new love and admiration for each other again with being granted time to spend together. Magagna migrated up north to Green Bay, Wisconsin, where they stayed during the pandemic. While those unknowing months became numerous, they fathomed a home together in Green Bay, for the first time in a long time. While Magagna was in Japan in 2018-2019, Case bought a new little dog, Ari, in which Magagna got to bond with over that time as well. 
Magagna said, "Home is more people than it is a place." 
They became homebodies together, and it was hard to come back out of that when the world returned to normal.  
As the couple has grown, Magagna believes their relationship has become stronger than ever before. While it hasn't always been easy, the couple adapted to their situation and became closer, more supportive, and loving, regardless of the physical distance between them.  
Over time, they have become each other's stress relief. While it gets hard with their busy schedules of teaching, planning, and being involved, the time spent together through a phone call, FaceTime, or in person is spent entirely present with one another.  
Their love story does not necessarily look like a traditional one, and that is the beauty of it. Love does not have to fit one specific blueprint that society has deemed a "perfect" marriage.  
While they are separated by distance most of the time by choice, they ultimately would adore living in the same household, but admire more supporting their careers and selves from afar during this season of their lives.  
This support looks like calls, visits when they are both able, and communication even if it might be brief on certain days. Their system was built on trust and utter admiration for the bond they have in one another. They are each other's biggest support system. It is a pure bond between them that was established early on during their adventures and hard conversations regarding life choices. These choices involve work, moving, children, and how to support and love each other regardless of anything life would present.  
Case believes that they do well at what they do. Their forms of communication and trust in each other coexist greatly from a long-distance perspective. They typically will play video games, visit with other friends and family virtually and plan impromptu check-ins. She finds it important to have the right people in your life to make everything else seem less stressful.  
Magagna fits seamlessly in that scene for her. 
Case said, "We think outside of the box. I feel completely safe with him and trust him with anything. I think it is rare to find that in someone. We make a really good team." 
From early on in their relationship sacrifices were a heavy topic, but both partners believed in each other enough that they would not let the other one down.  
When Case was younger, she was taught to prioritize family and that she would be the one to give up a career for that aspect of life, but Magagna changed that idea from the beginning of their relationship. Their goal was to be equal and supportive of each other enough to make all the outside noise of what a marriage should look like silent.  
They protect each other no matter the distance, as their wedding vows stated. 
Magagna said, "It's funny how I can remember almost all of what she said in her vows to me and not what I said to her. In her vows she said that if she could put a bubble around me to care and protect me, she would." 
He believes he said the same things about her. 
Case said, "With Tony I feel safe. I just know I can trust him with anything." 
The love is pure and patient, as they are the only people they do not need a social battery for. She strongly admires him, and that feeling is equally reciprocated in their bond.  
They took it slow and easy to be sure this was the right thing. Together they have weathered plenty of storms, figuratively and literally. On a hike in southern Utah, they were once trapped by a sudden rainstorm on a hidden hiking trail in the mountains. While the storm was brief itself, they knew together that they would make it, and if not, it was just them in that moment and nothing else would matter. Their hike back to the car was a soggy mess and laughs were shared with the selfies composed of the fiasco.  
They have been through many challenges of distance, choice, and struggle separately, but the other person makes it worth it. They found each other when they needed to. It might have been later in their lives, but it was their fate.  
While the couple is working towards being together in the same setting, they remain present and sure of the roads they have taken to get where they are. Love should not fit one standard that society claims it to be. Marriage can be a complicated thing, but weathering it with the right person makes it worth it regardless of standing, distance, or struggle. Admiration and love should overfill in the cup of marriage, as it does from afar between Case and Magagna.