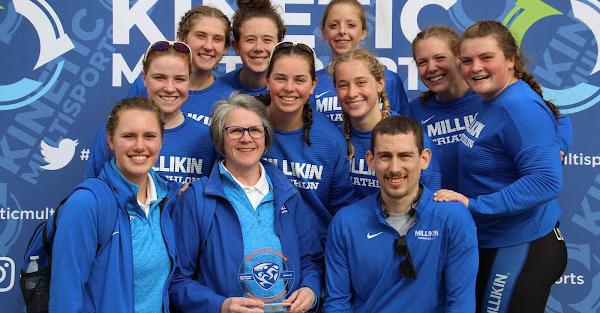 Duesterhaus Reflects on Her Final Season
March 8, 2023
Molly Duesterhaus, head director for the Millikin swimming and triathlon team will be retiring after this year. She has served in this position since 2016.
Although the role comes with lots of tasks and responsibilities, Duesterhaus is thankful for the challenges that the job entails.
"Our season never really ends," she said. "We must work with coaching, planning, building all the workouts through the workouts and changing strategy throughout the year. We also train at the YMCA, so we must make sure that we have transportation there and back."
She comes from a long background of coaching swimming, so the swim team was in good hands while she served as coach.
"I've been a swim coach for about 25 years," she said. "I started with community swim clubs and worked my way up into high school swimming. I coached a high school team that ended up being state champions, with several years with individual state champions as well."
Duesterhaus attributes her success as a coach to being an athlete herself.
"I've always been an athlete myself," she said. "That's where I get my competitive edge from."
However, she was not originally in the position of director of swimming and triathlon when she arrived at Millikin.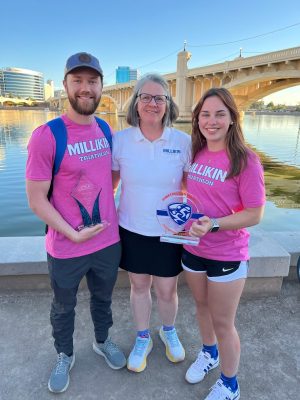 "When I came to Millikin, I taught adjunct in the school of business," she said. "Then the head swim coach left, and I had been working with college students for 20 years. I was offered the position at a time when Millikin was considering eliminating the swim program entirely. I met with Craig White about coaching, and we've been building ever since."
Duesterhaus embraces the idea of being a building program, and she has used this to fuel her passion for creating a championship-level team.
"I don't like to lose," she said. "I like to build. I like to grow programs. I've been given every resource we've needed, and some of it is just negotiating, especially with enhancing the program in mind."
However, she was not limited to just the swimming program. Duesterhaus was later approached with the opportunity to expand into the world of triathlon, and although she took the opportunity, she realized that it would take a village to get the program on its feet.
"We developed a partnership with Spin City Cycles and their lead mechanic at the time, Aaron," she said. "He was so good at coaching and mentoring me, not only for how to train athletes, but also understanding the nature and build of the different bikes we were using."
It did not take long for the team to find their footing. Within years, the team was consistently taking home trophies from the national meet.
The team is proud to boast several national placements, beginning in 2018. Since that year, the team has placed third nationally in 2018, 2019, and 2022. They were able to accomplish second place in the nation in 2021, with several individual placements in the top ten as well.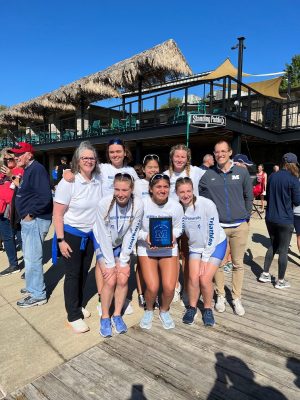 "The fall of 2018 was our first season, and we did that season with women who had never done triathlon before," she said. "12 weeks later, we wound up taking third in the nation."
Although the triathlon team has sustained success over the years, Duesterhaus believes that there is a lack of respect for the accomplishments that the team has been able to achieve.
"There was no real acknowledgment of us nationally," she said. "We went back to nationals in our second year and have gone back several times after as well."
Although she recognizes the lack of awareness of the program, she is confident that there will be more in the future, because she believes in the sustainability of success within the program.
Duesterhaus' story of coaching is an inspirational one, and it provides proof to aspiring athletes and coaches that regardless of the difficulties presented in the process, one can persevere and create immense success around them.