Psychedelic Learning: Dr. Dave's Musical Mission to Teach
"Burdick is an institution at Millikin. He became an institution in the most Burdick of ways."
February 20, 2020
Dr. David Burdick is eccentric, brilliant, energetic, and borderline frenetic. 
With dark, wispy hair that stands on its own and a scruff that resembles a man who hasn't slept in days, Dr. Burdick stumbles his way around campus with a sense of unknowing confidence. 
Dr. Dave, his penned nickname, enters the classroom with this questionable presence and one wonders if he deserves to be in the room. Even he questions how he stumbled upon this path and this career.  
Dr. Dave crosses the campus with a rumpled look and bewildered eyes yet inside his mind, gears are churning and turning. Burdick knows exactly what he's doing. Possessing a Doctorate (DMA) in Composition, Burdick uses his energy to reach students in ways not many professors can. 
He isn't an ordinary professor, he doesn't simply teach his classes. He learns from them. He involves his students with every lesson that is taught and urges them to become performance learners and equipped with the skills necessary to pursue their desired careers. 
So who is Dr. Dave?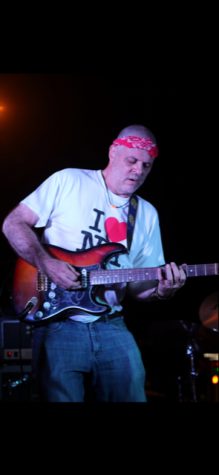 He's a professor that not only wants to educate, but desires to learn from his students and the material that is covered throughout the course. He is a musician who actively composes music, engineers for sessions, and is constantly involved with music in some sort of way. 
And he's exhausting. Within a few minutes, Dr. Dave could be discussing one topic then find himself in a completely different conversation in a location across campus. His personality possesses this breakneck style, yet every word spoken contains this insane amount of wisdom and confidence. 
"His mind is a mix between a tornado and an encyclopedia." said Justin Corp, a senior Commercial Music student here at Millikin.  
Dr. Dave finds himself carrying a head full of knowledge that guides young minds through the depths of college and the music industry. 
"If your value is not about your knowledge then what is it about?" Dr. Dave asked. 
He questions the inner workings of his intelligence yet understands that he may hold one of the brightest minds on this campus. 
Burdick is an institution at Millikin. He became an institution in the most Burdick of ways. 
Burdick had never heard of Millikin and had no intention of applying for the job once he found out he missed the deadline, but somehow, he ended up here.
It was Dr. Steven Widenhofer, referred to as Doc, who called him up and requested that he still send Millikin University his resume along with the rest of his portfolio. 
This "stuff" that's coined by Dr. Dave was non-existent up until a few hours later thanks to the help of his wife who helped him scramble everything together for this life-changing opportunity that merely resembled a job.
It was at this moment where education and the styles of teaching and learning became influential to who Dr. Dave is as a person, professor, and musician. 
A composer, Burdick blended his abilities as a musician, teacher, and scholar to perform in front of his students. Imagine colors of lush and harmonies of gold popping out and each piece of music being created or taught has the potential to become a miraculous piece of art. That's his classroom. Now picture a man living this effect day after day as he walks up the steps into his little nook inside Perkinson Music Center (PMC). 
"The nuggets of knowledge that Dr. Dave has given me have inspired me as a student and as someone pursuing music." said Justin Corp. 
Depending on the time of day, Dr. Dave can be found in a variety of places, but it's marginally ridiculous to go searching for the man who is somehow on a constant track of teaching students wherever he may be. 
It's the pure thought of teaching that Dr. Dave questions because what he figured out is "teaching and learning… that's backwards. Learning is actually before teaching." 
Any person could teach theoretically, but it takes an expert of the subject to teach the subject by learning in a pursuant manner. 
Dr. Dave admires education. His unique passion for the subjects of music business and commercial music helps students comprehend the topic and better prepare them for their future.
Over the years, Dr. Dave introduced a plethora of classes into the School of Music and every time he somehow fumbles his way into something brilliant. From a study abroad immersion course in Italy where he started a band and took them overseas to tour around the towns, to inviting Millikin alums or industry professionals to hold masterclasses about their specific area of expertise, Dr. Dave is always preparing for another chance for the students to get their hands-on opportunities and to make connections.
The venture to Memphis, Tennessee to track and produce a record allowed for students to achieve their dreams before they even had the chance to enter the real world. Recording in Sun Studios with a real-life and Grammy winning producer, the group explored the depths of the music industry and wound up living a fantasy thanks to a professor that possesses a fervor for music and teaching. 
Dr. Dave believes that he was the one learning from the event when he hired a film crew to follow the group's journey as they ventured toward Memphis. Eventually, their record slipped into the hands of the campus' own WJMU deejays. Their record played on the radio for everyone in Decatur to hear. 
It's moments like these that show the amount of compassion and effort that Dr. Dave has for the subject and for the students. 
Some may call it a bit ironic that Dr. Dave focuses so much on this aspect of learning and teaching when he "doesn't recall anyone actually even talking about the subject of what is teaching and what is learning" throughout his graduate school days. 
It wasn't until his arrival at Millikin where he discovered this phenomenon that has changed his life and outlook on education for good. 
Hanging up on the whitened wall near his desk, a framed picture of Doc and Dr. Dave overlooks the scattered and book-filled office. The man who brought Dr. Dave here to this campus in central Illinois was lost far too soon, and the man who became his friend had to say goodbye way too early. 
The two marvelous musicians blended as one on stage and in the classroom. They became two of the signature faces when walking around the School of Music. 
When Doc fell ill, Milllikin felt empty and an eeriness lurked in the shadows. When all was assumed to be well and the news that Doc might return broke, people celebrated. 
But that celebration crumbled with the news at the New Year. Widenhofer's death rocked the campus. It hit Burdick especially hard. 
Dr. Dave's friend, colleague, mentor, and so much more was gone. No one truly knows how hard this impacted Dr. Dave other than Dr. Dave, himself. 
For the first time, this non-stop moving machine took a slight pause as he gasped for words and for what to say next. Only Dr. Dave knew what he was thinking, but anyone could throw out a good guess as the picture of Burdick and Widenhofer lurks. 
Kevin Guarnieri, the Commercial Music and Millitrax advisor on campus is another friend of Burdick's. As a former producer, KG, his famous moniker, connects with the industry and music on the same levels as Dr. Dave does. 
"[Dr. Dave] is on both sides of the glass," Guarnieri said. "In the studio sense where he's a musician, he's a producer, he's in the live room, he's an arranger or he can walk into the other room [and] be an engineer… he can accept all the roles and they're all valid for him." 
KG describes his dear friend and associate with this sense of admiration for everything that he contributes to the School of Music and the music industry in general. 
Education has unexpectedly become the everyday life of Dr. Dave. In fact, Dr. Dave is an educator. He's a musician, producer, engineer, and so much more, but he's an educator every day of his life. 
Sure–being a musician is an everyday gig. When it comes to his roots as a professional musician and living life on the road, he said, "I bluffed and blundered my way into full-time playing the week I graduated college." 
From there, Dr. Dave found himself dwelling in dingy motels every day and becoming attached to the van that became his home and his comfort.
Dr. Dave pursued further education and found himself noticing differences on how he was treated and respected as an academic and as a musician. Burdick put two and two together. Before teaching became his niche, Dr. Dave toured the road with a houndish mentality.
Burdick eventually decided on a career in education. He didn't know where it would lead him, but he gave himself a chance. He entered a world where the odds were against him. 
The journey ahead of him led him on so many riveting adventures, but it's where he landed that he appreciates the most. It's the people, the students, the passion, and the music that allows him to teach and to learn. 
"I always opt on the side of my gut. Trust your gut." Dr. Dave said. 
Life is full of twists and turns, but it's the stops along the way that makes it worthwhile. Working on his Ph.D., Burdick found himself out of place, but he found where he belonged.
"Well… I was a road dog," Burdick said of his experience. "You know, I was a mutt in a building full of blue bloods." 
He's still that way. Even today, he exists in his little corner of PMC as an eccentric entity with his fellow road dogs, just trying to learn.