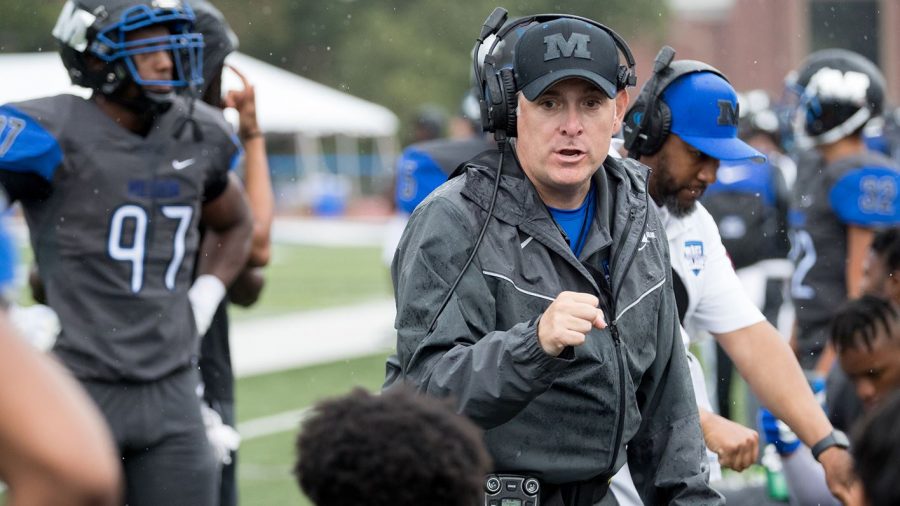 The Millikin Big Blue football team is now on the hunt for a new head football coach due to the departure of former head coach, Dan Gritti. Gritti led the Big Blue for six seasons, posting a 27-26 record in those six seasons. 
Over six years as a head coach, player-coach relationships are built and become an integral part of a football program. Although Gritti is now gone, there is still a team full of 18 to 22-year-olds left behind. What kind of impact did Gritti leave on the current players?
"This past season really showed his true colors of how he is as a coach and as a person. We dealt with a lot of adversity this season and most, if not all of it, was caused by him," one player, 5th-year Cal Pohrte, said. "This program had so many talented players and a great coaching staff; however, Coach Gritti didn't allow any of us to use all of the potential we had and make it a successful season". 
Other players had similar thoughts.
"I feel like Gritti had positive and negative moments in his coaching career," senior Donrico Farmer said. "At times he would be a contradiction of a coach. He really cares about players but when we need it the most was sometimes absent…Since I've been at Millikin, it's been a constant decline in the culture of the team he's coaching. The connection aspect wasn't there, and I think that he lost the team before we ever played a down. Look at Dabo [Swinney] or Steve Kerr. Successful coaches know what the players need, and I feel Gritti just didn't do that for us."
While some older students in the program had a lot to say, younger students didn't have quite as much to say.
  "As an incoming freshman with very little to no knowledge on Gritti, I just thought of him as an old school rough coach who wants the best for his players and team," freshman Tevin Lewis-Johnson said.
Junior Quinton Miller said, "I honestly think Gritti was one of the smartest individuals that I have encountered. He mentioned a lot of great things about life skills and facing adversity. I noted the majority of conversations we had one-on-one and as a team. I wish I could've got to know him more personally to understand the obstacles he faced to get to the point where he's at now in life."
Relationships with Gritti vary greatly throughout the team depending on how long each player has been here. From talking with players and being a part of the team for four years, I've seen these varying relationships firsthand. 
Gritti was not well-received by the majority of the older guys. As a group, we saw and felt the decline of stability from him through his actions and how he carried himself. 
With Gritti leaving, there is a mix of emotions and feelings amongst the players. 
"It's always sad to see someone you've been a part of go; however, I believe that this program is taking the correct steps into making Millikin football what it used to be back in the day," Pohrte said. "I'm excited for the future and can't wait to see how Millikin prevails from this change."
While Pohrte was positive, not everyone agrees with him.
"Him leaving, no disrespect, but it was a year too late in my opinion,"  Farmer said.
Other players agreed with this comment but chose to remain anonymous.
Coaching is a tough business that can change at any time, and this is one of those times. Gritti has his pros and cons, just like all coaches. Millikin just wasn't the right fit for him. Hopefully the next coach is the right fit for Millikin.