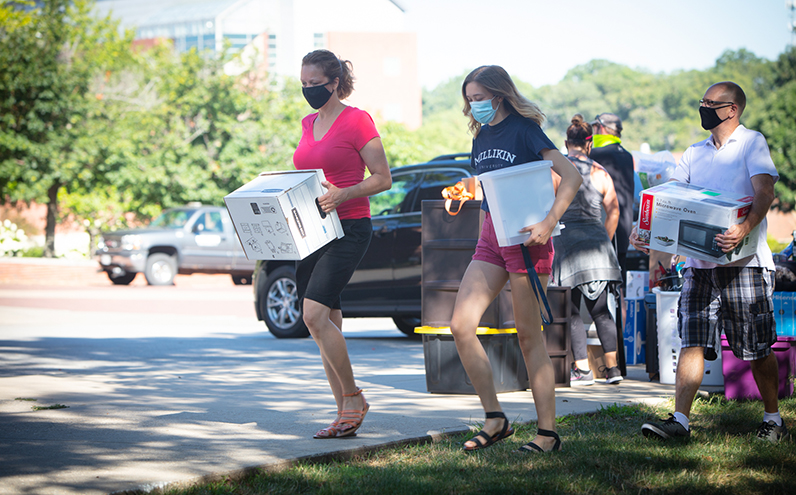 For the entirety of my sophomore year, I took exclusively online courses from my bedroom in Kansas City. It certainly wasn't ideal, but I had asthma and wasn't about to risk serious illness for the sake of my education. During that time, I grappled with staying focused, trying to stay passionate about my major, and feeling isolated from my friends.
A week ago, however, I was finally able to return to Millikin wholesale. I was vaccinated, as was much of the campus population, and so I finally felt comfortable moving into The Woods and taking in-person classes again.
I rode with my parents all the way from Kansas City to Decatur, and as soon as I saw Dolson Hall again for the first time in 16 months, an enormous weight was lifted; it felt as though I was letting go of a breath I'd been holding since I left.
Once classes started, that feeling of relief only became more pronounced. Certainly it was an adjustment; it took me some time to get used to sitting in a classroom again. However, the simple joy of sitting with my friends, talking with my professors, and being able to use the recording studio, or the honors lounge… I couldn't ask for more.
Even at times when I find myself annoyed or frustrated, I am able to really take a step back and acknowledge that, at the least, I am at Millikin. It may be 90° outside, and I may be exhausted… but I'm here.
Another thing that has really fascinated me is the fact that the Center for Theatre and Dance (CTD) is actually finished! Construction was still underway when I left, and now classes have taken place there for well over a year. It's honestly incredible to be able to come back to something like the CTD, which is so useful and, if I'm being honest, really aesthetically pleasing.
Now, of course, all of this is not without its caveats. Even within the first few minutes of being on campus, I had to schedule a COVID test. I've really had to adjust to wearing a mask just about every hour of every day again. In spite of all the fun memories I'm making, there is always an underlying fear that it could suddenly come crashing down— and that I might have to resume online classes.
With that being said, I am glad to be back on campus, surrounded by people who want nothing but the best for me. I fully intend to savor every moment I have at Millikin— especially knowing how quickly things can change.