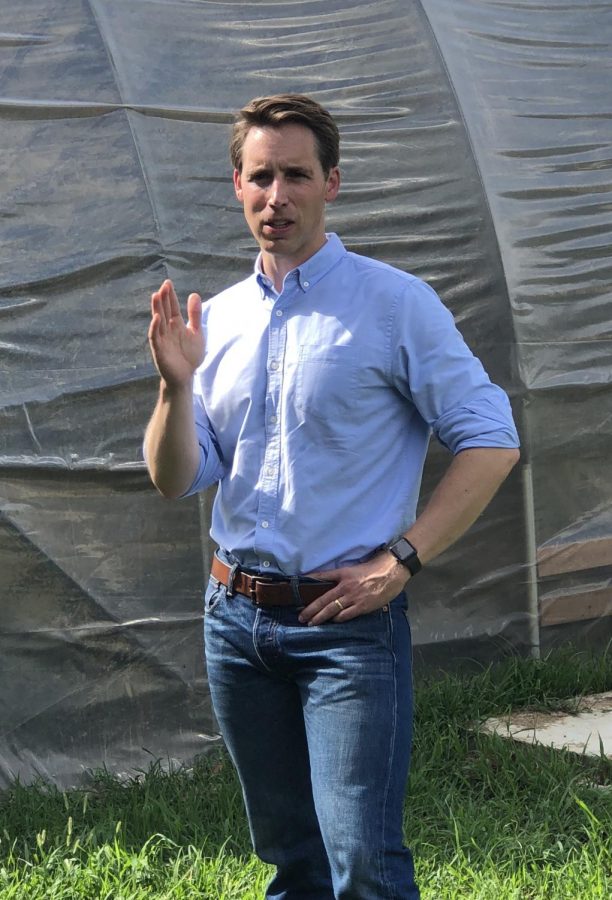 On Dec. 30, 2020, former CIA Director John Brennan referred to U.S. Senator Josh Hawley (R-Missouri) as the "clear winner of the 'Most Craven, Unprincipled, and Corrupt Senator' award." 
This was in response to Hawley's pledge that same day to challenge the Electoral College results on Jan. 6, when Congress was set to certify Joe Biden's victory. In doing so, Hawley guaranteed that both the House and the Senate would be forced to debate the results in Pennsylvania, as well as other contested states, and vote on whether or not to accept them.
Hawley's decision was met with condemnation by Democrats and Republicans alike, with Senate Majority Leader Mitch McConnell (R-Kentucky) stating that challenging the results could hurt the chances of Republicans in future elections.
However, Hawley is no stranger to the political limelight. Throughout his brief but polarizing political career, he has routinely shown himself to be an adept politician, capable of breaking from his party without facing repercussions while also fighting for conservative principles that have defined the Republican Party for generations.
Hawley graduated from Yale Law in 2006; a year later, he clerked for Chief Justice John Roberts of the U.S. Supreme Court. He returned to Missouri in 2011 and became a professor at the University of Missouri Law School. Meanwhile, from 2011 to 2015, he worked for the Becket Fund for Religious Liberty, a non-profit organization that describes itself as a "public interest law firm defending the freedom of religion of people of all faiths."
In 2016, Hawley ran for Attorney General of Missouri, winning the Republican primary with 64% of the vote and the general election with 58.5%. During his time as State Attorney General, he sued three pharmaceutical companies for their contributions to the opioid epidemic, opened an investigation into Google and several other major tech companies, and joined a group of Republican-led states in challenging the Affordable Care Act as unconstitutional.
Since Hawley left office, State Auditor Nicole Galloway has published two reports, both detailing how Hawley's office mismanaged taxpayer money and didn't follow office policy. According to Galloway's report, his employees used personal emails and phones to conduct official business, and Hawley used a state vehicle and driver several times for unofficial purposes, including to see a football game with his wife.
In the 2018 Missouri Senate race, Hawley beat out Democratic incumbent Claire McCaskill. Hawley received a great deal of support during his run from President Donald Trump, who visited Missouri on multiple occasions to raise funds for Hawley's campaign. Throughout the race, Hawley attacked McCaskill for her opposition to Brett Kavanaugh's Supreme Court nomination, stating, "Senator McCaskill's refusal to back Judge Kavanaugh is a betrayal of the people of Missouri."
Since Hawley joined the Senate, he has voted with Trump 85.7% of the time. He was a strong defender of President Trump during his impeachment trial, calling it "bogus" and creating a resolution to dismiss the articles of impeachment. He also joined Senator Bernie Sanders (I-VT) in calling for stimulus checks to be increased to $2,000, and referred to the government of the Chinese Communist Party as a "police state" in response to their crackdowns against Hong Kong protesters.
On Jan. 6, the day the results of the 2020 election were slated to be certified, pro-Trump terrorists stormed the Capitol building. The attack on the Capitol resulted in five deaths, as well as two officers who died by suicide in the days following. Before the violence broke out, Hawley was photographed giving the terrorists a fist-pump salute.
In the aftermath, many of Hawley's Republican colleagues hoped he would abandon his ploy to undermine the electoral college, but he persisted, voting in opposition to certifying the results in Arizona and Pennsylvania. Both objections were rejected by the Senate with more than 90% of the vote.
Since Jan. 6, many of Hawley's political donors have attempted to cut financial ties with him. The publishing company Simon & Schuster dropped Hawley from a book deal, and David Humphreys—whose family donated over $6 million to Hawley's Senate campaign—called for the Senator to be censured. Hawley has claimed that these efforts are the result of a "woke mob" and that he is a victim of cancel culture.
Despite his claims to the contrary, Hawley has made it abundantly clear that he cares very little for the Constitution, opting instead to undermine the democratic processes of the United States for the sake of grandstanding and political theatre. Even in 1995 when he was 15 years old, he argued against referring to the perpetrators of the Oklahoma City bombings as "terrorists." 
He has proven time and time again his disdain for American ideals, and this is made even more frightening when one begins to consider that he has been viewed as a potential frontrunner for the Republican nomination in the 2024 election. Considering the damage he has already wrought during his two years in the Senate, one can imagine the consequences of allowing an extremist like Hawley into the Oval Office. The stakes are too high.
Missourians have known Hawley was dangerous for years, but didn't fully grasp the scope of his ambitions in time. We sincerely hope the same will not be true for the rest of the country.