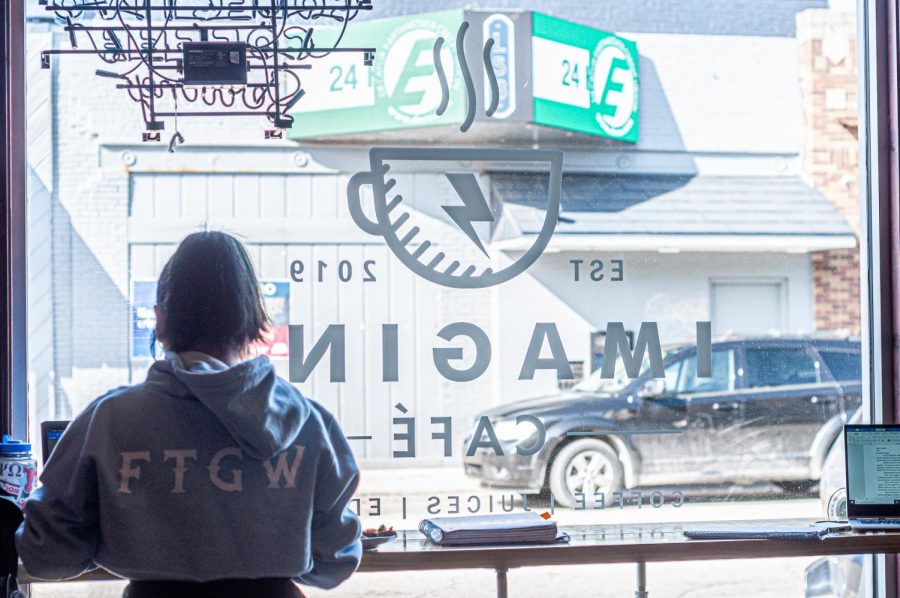 Decatur's Imagine Café recently opened on South Oakland Avenue in the Oakwood business district. Students have flocked to this new coffeehouse, excited to have a space nearby to do homework and get a hot meal.
Imagine Café is located in the same space where Blue Spoon used to be. Most people in the Decatur community remember Blue Spoon as a hangout spot similar to Imagine Café, but this restaurant closed a few years ago. 
Older Millikin students have felt its absence, and they are hopeful that the new business could be a worthy replacement. Having Imagine Café so close to Millikin is especially convenient for students who want to get off campus and experience a bit of Decatur without straying too far.
The restaurant offers a variety of pastries, breakfast sandwiches, and small meals. Their biggest pull is their drinks, including juices, teas, and coffee.
A few days after opening, we enjoyed a rainy afternoon at the café. It can be a little overwhelming at first. The music was blaring, and the room was bustling with waiters and customers. But it soon proves itself to be a welcoming environment with good food, hot drinks, and a warm community.
As we sat there reading and drinking bitter espresso, we waved to other Millikin students and struck up conversations about classes, books, and life. It reminded us why coffee houses are so popular in the first place. 
Coffee may be something that keeps us going throughout the day, but cafés also give us an opportunity to relax and connect with others. 
In a lot of communities, cafés are what you make of them. They serve as a setting for professional meetings, dates, or moments to yourself. 
If you work from your computer or just want a change of scenery from your usual space, cafés are a go-to spot to get things done. You can fuel up with coffee every day or treat yourself to a drink on a special occasion. 
You can find a welcoming environment in a café. It's a place for you to make friends, get closer to loved ones, or take time for yourself. You can be alone without being lonely. Whatever your situation is, you belong.  
Imagine Café is named after the John Lennon song "Imagine." But in an ideal coffee shop, you don't have to imagine all the people living in peace. It's a reality.
While most students are excited about the new café, others are concerned that it will negatively affect local businesses. Several people worry that Blue Brew, Millikin's student-run coffee shop, might lose its customers.
This is a legitimate concern. Blue Brew is located in downtown Decatur, so this new café provides a more convenient option for any students who may not have access to a car. 
However, the two shops have different atmospheres. They will continue to grow in different – potentially complementary – ways. And Blue Brew loyalists will likely stick to what they know and love. 
The Millikin community has a home in Blue Brew. We will need to find this at Imagine Café. But as the new shop gains its footing in the Oakwood district, we anticipate that it will develop its own community.
As the rain poured outside, we felt at home in the environment this new café provided us. It doesn't take much imagination to believe that Imagine Café will become a place of connection for students and Decatur community members alike.