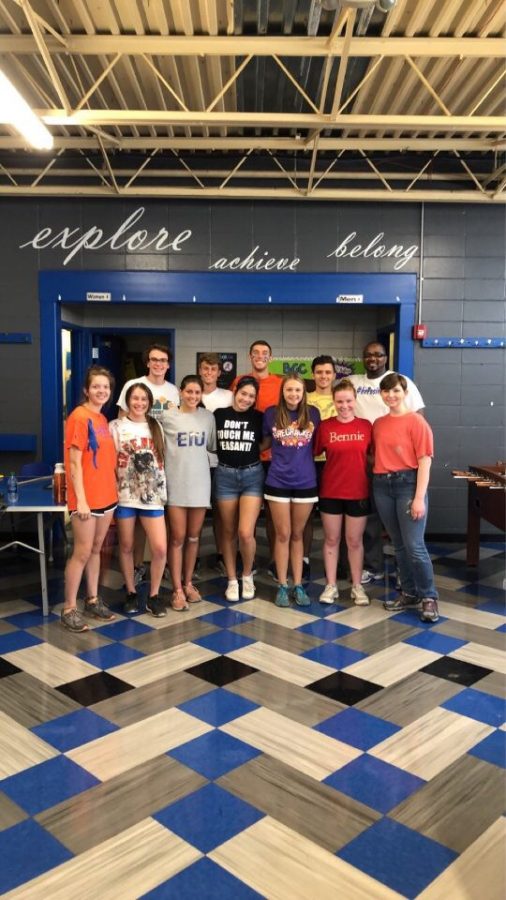 Freshman Perspective: Service Learning Reflection
A couple weeks ago I was involved in Millikin's Welcome Week for incoming freshman. We got to learn our way around the campus, engage with our peers, meet some of our amazing professors, learn about rules and regulations, and probably my favorite thing we did-Millikin's Service Learning Program. 
Millikin's Service Learning Program requires Millikin Students to participate in helping our community. These activities can range anywhere from helping at the cemetery in burning heat to playing games with elderly people. However, I got to help at the Boys and Girls Club.
My service hours consisted of painting childrens bathrooms, retouching chipped paint on doors, and basic maintenance things. I not only learned a lot from my experience in the service learning program, but I also enjoyed taking an active part in boosting Millikin's reputation. 
After seeing the benefits from this program, I think Millikin should require their students to participate in the Service Learning Program every year.
The Boys and Girls Club is a place where kids can go to get extra help in school, get closer with other kids in their community, and get away from dangerous home life. In our generation so many kids are abused, being raised by their grandparents, hungry, and don't have a safe place to call home. 
The Boys and Girls club provides a safe environment, food, help in school, and kids the opportunity to grow. Our job of painting bathrooms and retouching chipped paint helped us create a more friendly environment for the kids. 
We painted the nasty white bathrooms bright blue and grey. We wanted the kids to feel warm and safe. Creating a more pleasant environment with pleasant colors can stimulate feelings of warmth and security. 
I also got to become closer with peers from Millikin University. Working on a project together and helping a community together creates coser bonds and relationships you will never forget.
Millikin's Service Learning Program has so many benefits. Ethically speaking, it allows students to engage with their community, do something meaningful, boost Millikin's reputation, give back to people in need, and feel productive. 
Millikin students get to meet their community and create relationships with businesses and places in Decatur. These relationships could help create jobs for many students and expose them to opportunities Decatur has to offer. 
From my personal experience, I loved helping at the Boys and Girls club so much that I picked up a volunteer slip so I can go back and help them even more. I loved that I was helping kids in need and my community. 
Another big reason for this program is Millikin wants to keep a good reputation. They have created a good environment where Millikin is known for helping its community and giving back to people in need. 
This can be amazing if you ever need an off-campus job or even a career after college. Employers are looking for hardworking people. People who help others even when they aren't asked. This is the kind of reputation created for Millikin through the Service Learning Program. This was my experience with Millikin's Service Learning Program.
Freshman Perspective: It's Okay to Not Have It Together Yet   
What no one tells you about being a freshman is that it's okay to not know what direction you want your life to take, because according to everyone else, college is the place where you figure your life out, and then you stick to that for the rest of your life – it defines your career, your friendships, your relationships, everything. 
And the first thing I found out when I got here is that it didn't. 
That it'd be okay if I decide to change majors because that's what people did when they decided their majors weren't working for them. 
And sure, the family would have questions, but if they can't accept that you've found something better, that's on them.