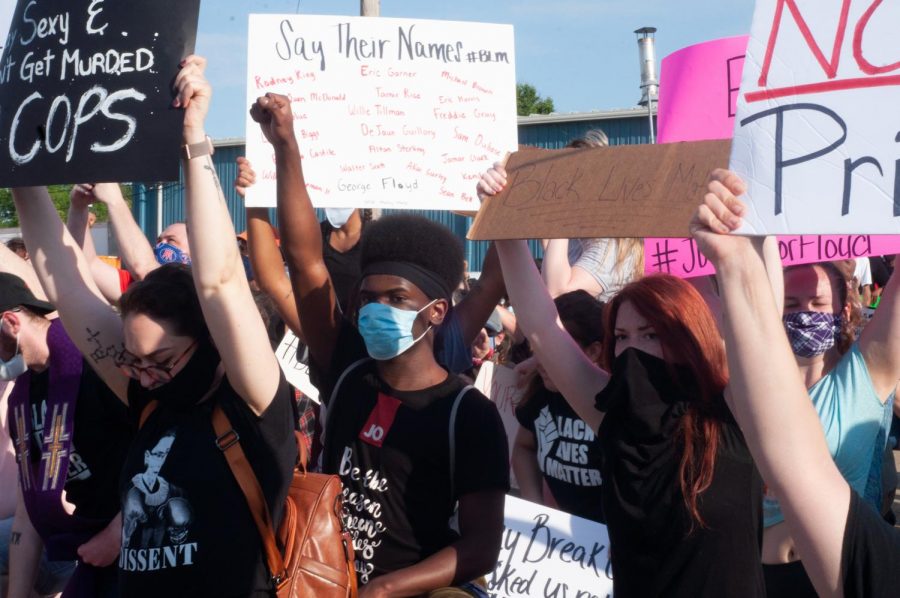 Athena Pajer
Hundreds gathered outside of the Decatur Civic Center with picket signs and cloth masks by 4:45 p.m. on June 1, thirty minutes before Decatur's third #BlackLivesMatter protest began. This was going to be a big one, and countless members of the Millikin community would be part of it for national, Millikin-related, and personal reasons.
"I'm here by myself, and I was supposed to come with eight people," Elijah England, a Millikin student from Decatur attending the protest, said, referring to concerns many shared after reports of broken windows and fires in the Decatur area—and when conflicts between protesters and police are rampant throughout the United States. "So, there was some concern."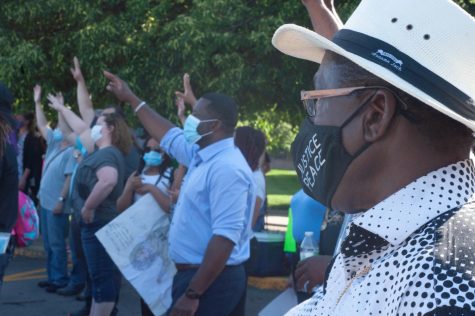 England attended the previous protests, which were much smaller; one protest included only about fifteen people. He attended this protest despite the concern.
"I'd rather be here and there be a riot and me die than be afraid to go outside of my house every day," England said.
Dr. Julio Enríquez-Ornelas, assistant professor of Spanish, also attended the protest by himself. He spent a long time debating whether he would come or not.
"To be honest, I just couldn't stay home," Enríquez-Ornelas said. "I couldn't stay still. Initially I didn't want to come because I was afraid that maybe something was going to happen. I have been to protests before where that did happen."
At the June 1 protest, there were no instances of protester or police violence. In fact, there were more instances of protester-police collaboration. Decatur Police Department Chief, James Getz, even parked his car at one of the corners of the march route, accepting handshakes through the driver window.
The leaders of the march discouraged violence and destruction throughout the entire march and set a designated path over several blocks of Eldorado street, Church street, and Martin Luther King Jr. Street. When the marching was over, they encouraged everyone to register to vote and attend city council meetings on the first and third Mondays of the month at the Civic Center.
"I'm glad I came," Enríquez-Ornelas said. "It was a peaceful gathering and I was happy that it was a peaceful gathering. I was happy to see a lot of people from the Millikin community: faculty, staff, and students."
Some were not surprised at all that it went peacefully.
"I know the people of Decatur have one thing on their mind and that's justice, not destruction," Lexi Ross, a Millikin student, said after the march.
She attended with her friend and fellow Millikin student, Amber Marler. Both students consider themselves to be part of the Decatur community though their hometowns are elsewhere.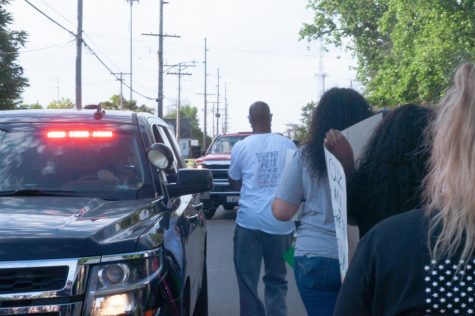 "There's a lot of reasons I'm here, today, but I think that's the main reason," Marler said. "It's, you know, Millikin is a college campus and people go home, but there are the students that are here year-round or students who live here and staff and faculty that are here year-round…Begin part of Millikin makes you part of Decatur."
Ross and Marler brought up their frustration with how Millikin has responded to these issues.
"It was also kind of very ironic that we got an email about these movements from our Dean of Students [Raphaella Prange] …during this," Marler said, referring to the mass email she received from Prange while she was in the middle of marching. "It took them how many hours to get that email out?"
"It took a whole week for the president to say something and he wrote two very vague paragraphs," Ross said.
Both students also wanted to hear from Dr. James Reynolds, Millikin's next president who will take office on July 1.
"I love P. White to the death of me, but he's not going to be here next year," Ross said.
Ross and Marler want Millikin to learn something from this protest: Bring this sentiment to campus.
"Go out, do what you can to help the black community," Ross said. "Not even just the black community but the people of color, and use your voice if you have a voice."