Caleb's Weekly Playlist: Infinity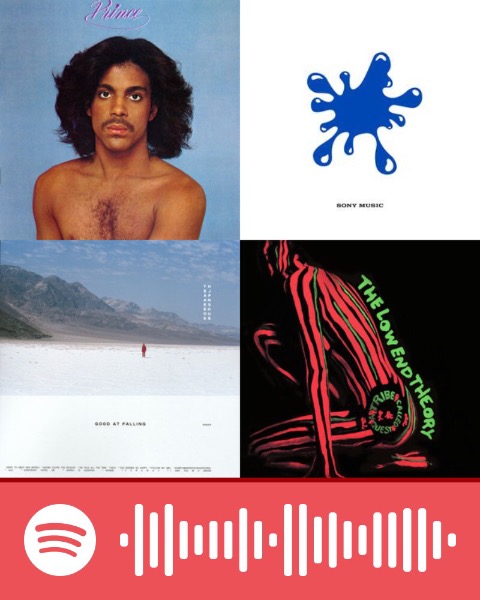 This week's playlist isn't for one week, but rather all the weeks. Infinity will transport the listener to an alternate dimension where the mixture of 80s and 90s grooves will collide with newer textures of 2019. As the classics storm the airwaves with futuristic vibes for the time, the new indie pop hits of 2019 carry their own retro and forthcoming grooves that resemble ones of the past and yet to come. Be prepared to take flight and become engulfed in the atmosphere that is INFINITY.
"I Wanna Be Your Lover" – Prince: The lovely and sensational falsetto that is Prince instantly sends jives of endless pure funk. "I Wanna Be Your Lover" enters on the cusp of 1979 where the 80s are beginning to blossom and helps lead the groove-generating and forever beloved genre of 1980s R&B. Prince's classic resembles so much of his previous and future work while creating an entirely different groove than the rest. The chorus sticks to the listener's mind as if mint was stuck to the back of one's mouth. "I Wanna Be Your Lover" offers spontaneity, jiving, and the opportunity to have that longing to want to be someone's lover.

"Sunflower (feat. Steve Lacy)" – Vampire Weekend: A brand spanking new hit yet it carries so many 80s characteristics as well as offering so many grooves that could be popular in the near future. With a groovy shuffle and sing-along choruses, "Sunflower" consists of simplistic and repetitive riffs whilst mixing in feel-good and catchy verses that attract the listener and encourages them to explore into the depths of Vampire Weekend's futuristic 80s clashing bop.

"Jazz (We've Got)" – A Tribe Called Quest: Throwing it back to 1991 with A Tribe Called Quest's "Jazz (We've Got)," this take on acid jazz fused with flares of 80s R&B and flavors of 90s hip-hop captures the authenticity of the group as well as the truthful verses that occur throughout the tune. "Jazz" takes the listener on a ride almost doesn't seem plausible yet the listener finds themselves crooned with saxophone riffs and lyrics of honesty that still remains true today.

"You Seemed So Happy" – The Japanese House: This newly released indie hit features hints of 80s pop via the grooves throughout the chorus and provides flares of what the future holds for indie music inside each verse. "You Seemed So Happy" follows the raw and truthful lyrics as heard in previous tunes while remaining upbeat, groovy and continuing to innovating music with every lyric and riff.

"Kiss on My List" – Daryl Hall & John Oates: 80s pop became highlighted almost yearly by the duo, Hall & Oates. "Kiss on My List" maintains those retro vibes that were constantly appearing 80s records and offers up possibilities for future references in the pop-rock genre. This classic is not only a crowd pleaser but a bop in its own definition and will never get old.

"House Of Glass" – Cage The Elephant: 2019 is truly bringing back time as Cage The Elephant's brand new hit seems to be confused with what century and decade it is because it's not 1985 anymore. "House Of Glass" consists of techno-pop infused riffs, synthesizer energy, and lyrics that totally define the authenticity of the 80s. This bop reminisces the past and builds a window to what may be considered as a retroistic future in the indie genre.

"Rock with You – Single Version" – Michael Jackson: Similar to Prince's 1979 hit, the King of Pop himself released "Rock with You" right on the edge of the 70s where the 80s were already starting to bloom. "Rock with You" consists of 70s horn lines, 80s funk and R&B infused grooves, and lyrics that will have each and every listener singing and dancing along. The bubbly and contagious riffs between each chorus fuel this popular and classic tune and has found its way to airplay in several decades since.

"Narcissist (feat. The 1975)" – No Rome, The 1975: These two unlikely pairings got together in 2017 to release quite possibly one of the better indie pop tunes over the decade. George Daniel and Matty Healy from The 1975 worked with No Rome on this raw futuristic bop on narcissists and all the problems in today's world.

"Don't Feel Like Crying" – Sigrid: This recently released single comes from Sigrid's debut record that happens to be in the running for one of the best indie pop records over the past few years. Sigrid's natural and eloquent vocals crash onto the scene while each lyric stings just a tad bit no matter how positive or negative the overall meaning happens to be. "Don't Feel Like Crying" establishes a sense of reality and similarity while combining it with textures from the 80s and creating a potion of possibilities for indie pop music in the future.
Leave a Comment