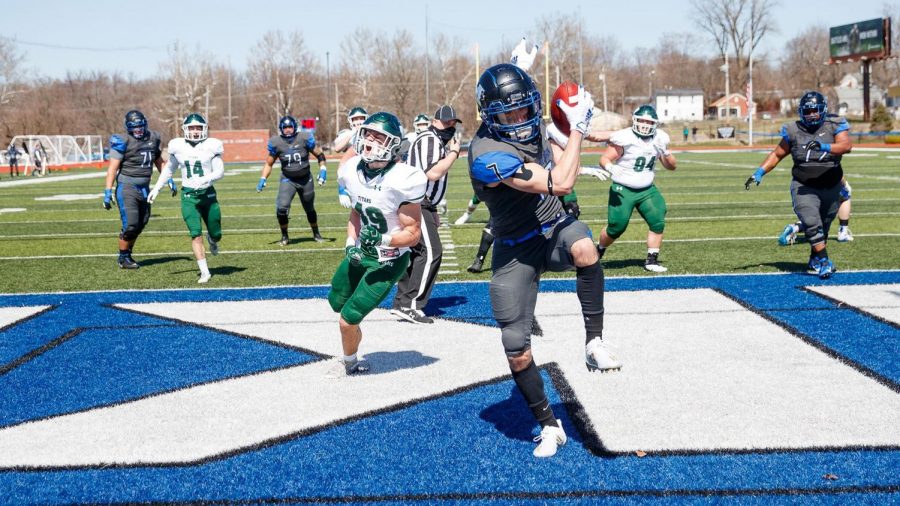 Football in the CCIW always comes with obstacles. 
Obstacle number 1 is defending (2019-2020) national champion North Central College, currently ranked #3 in the nation according to D3Football.com. Then you have Wheaton, conference champion in 2019-2020, ranked #5 nationally and picked to win the conference this season. 
Winning in the CCIW is relative. What constitutes a successful season? 
"In big picture terms in these times, getting to play all 10 games will be a success," Millikin head coach Dan Gritti says. "In win/loss terms, a winning record is a realistic goal that would designate this season as a success."
Here are 5 things the Big Blue need to do to reach that success in 2021:
Build on the last 2 seasons' accomplishments
In the past 2 seasons, Millikin has gone a combined 7-6. In 2019, that saw them take care of business against some of the bottom feeders of the conference, with wins against North Park, Carroll, and Elmhurst, and a season opening non-conference victory over playoff qualifier Hope College. Where the Big Blue stumbled was against the other half of the league, dropping games to Wheaton, Illinois Wesleyan, and North Central, as well as a loss to Carthage. 
Perhaps the biggest bright spot from that season, though, was a 35-28 win over Wash U. 
In 2020, Millikin took another step forward, beating Illinois Wesleyan for the first time since 2009 en route to a 2-1 spring season. 
The offense needs to click
Millikin's offense is an experienced group, returning four starters from last year's offensive line (Hayes, Williams, Williamson, Vogt).
 "The line serves as the foundation for the rest of our offense," Gritti said. "They know what it takes to play at this level." 
At the skill positions, 5th– year quarterback Cal Pohrte, running backs Marion McGhee and Tyson Roedl, and All-American receiver Colton Lockwood all return. 
After scoring almost 100 points across three games this past spring, the offense needs to continue finding the end zone at a high clip for this team to be successful. 
Improved defense
As impressive as the offense was this past spring, the defense allowed 103 points over the course of those same three games. Although last season was such a small sample size, the defense was also a major key in 2019.
 In games the Big Blue won, they allowed an average of only 12.6 points over those five games. In games Millikin lost, however, the defense let up 50.8 points per game. For a group that also has plenty of talent returning, the defense will dictate how far this team can go. 
Among those returners is 2020 co-captain and 5th year senior, linebacker Jequan Harrell. 
"He's the quarterback of our defense," Gritti said. "He's a great leader and example on and off the field." 
Another 5th year senior linebacker coming back is David Jones. Also a special teams threat with two blocked punts last year,  Jones made 15 tackles last year, and 2.5 tackles for a loss.
  "He's a disciplined player, and he empties his pockets," Gritti said. "You know you're getting everything he's got." 
Perhaps the player with some of the biggest upside on this defense is senior lineman Alex Perkins. Perkins had six tackles for a loss, including four sacks, last year over the course of three games, a pace that would have put him over 13 sacks in a 10-game season. 
"He was able to slow the game down and really figure out his natural ability," Gritti said.
 That kind of natural ability could be a major boost for the Millikin defense in the pass rush. 
Take care of business against lesser teams 
With the way Millikin's schedule sets up, the team faces the bottom of the conference first, then makes its way into the gauntlet that is the top half of the CCIW. 
A non-conference matchup with Greenville on Setp. 4th opens the season, followed by a bye week in week 2, when only North Central and Carroll are playing in non-conference games. The next 3 games come against teams picked to finish 8, 7, and 9 in the preseason poll, respectively. Carroll, Carthage, and Elmhurst are all games Millikin should be able to win, and need to win in order to make a run at the upper echelon of the conference. It's the three games that follow, however, that will most likely decide what will be said about this year's team at the end of this season. 
In week 6, the Big Blue travel to Illinois Wesleyan, followed by a week 7 home matchup with Wash U, and then a date with North Central in week 8, again at home. Week 9 takes the Big Blue up to visit North Park, and finally, Millikin closes out the regular season by hosting the Wheaton Thunder. 
In theory, Millikin can end the season with a winning record without beating any of Wheaton, North Central, Illinois Wesleyan, or Wash U. 
In theory.
 However this would mean they have to go a perfect 6-0 in the remaining games on their schedule. While of course it's certainly possible, Millikin will probably need to knock off one of the aforementioned 4 teams in order to reach that 6-4 winning record. However, if they do win at least one of those games, and win out against the other 6 teams on their schedule, this fall could end up being a fun one for the Big Blue. 
Stay healthy
While it sounds a bit obvious to say that a key to a successful season is to stay healthy, luck has not always favored the Big Blue as far as injuries go. In recent years, promising teams have seen potentially great seasons held back by injuries to key players. This team will have to stay on the field in order to achieve its goals. 
On top of all of that, the team will have to battle COVID. Staying COVID-free is going to be just as important as staying injury-free for Millikin, just as it will be for every team in the CCIW, and the nation. As Gritti said, playing all 10 games this season may end up being enough to consider 2021 a success.