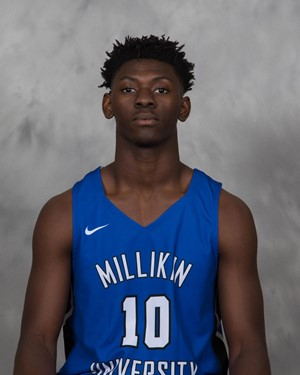 COVID-19 has been said to slow people down. With everything being shut down, it can lead to people slacking, or simply not feeling motivated to do the simplest things that were part of their daily routine. However, the global pandemic has only pushed Millikin men's basketball player Mike Akinwumi to work even harder.
Akinwumi, who plays center for the men's team, has been using the closures to his advantage. He now has fewer distractions that could take away from his focus on school and basketball, while still being mentally healthy. 
A junior from St. Louis, Akinwumi said the best part of being part of a team is the perks. 
"I get to stay active and fit since we're always working out, which is something I enjoy," Akinwumi said. Staying fit has proven to be difficult for many people in the pandemic due to gym closures and stay at home orders.
Akinwumi also enjoys the crowd environment. 
"When the game is about to start and we have a large crowd, I start off nervous," he said. "Once I get warmed up, I just love the environment that comes with it."
Coronavirus has impacted the way teams conduct practices. This has not swayed Akinwumi's dedication to the sport, but it did cause that once-familiar environment to change drastically. 
"When we first started we had to wear masks [for five weeks], which was hard to do, because they were hard to breathe in, and our couches were able to help but get us a more breathable mask," Akinwumi said. "But basketball includes a lot of running, which is something you can't really get past." 
He also noted the changes made when practicing as teams.
"There are about 20 players on the teams in half, and we couldn't do any contact drills at first," he said. 
As of now, the team can do contact drills, and everyone practices as a whole team, which Mike hopes will remain the same as the semester continues. 
During the quarantine that subsequently ended Milllikin's (and everyone else's) in-person classes and caused people to have a lot more free time, Akinwumi used this time to work on his playing. He states that the quarantine helped him prepare better. 
"The time that I had, I took advantage of it by working out and preparing for the next season," Akinwumi said. "They were resting us so much, the only thing I could do was homework and workouts. These workouts are what got me to where I am now."