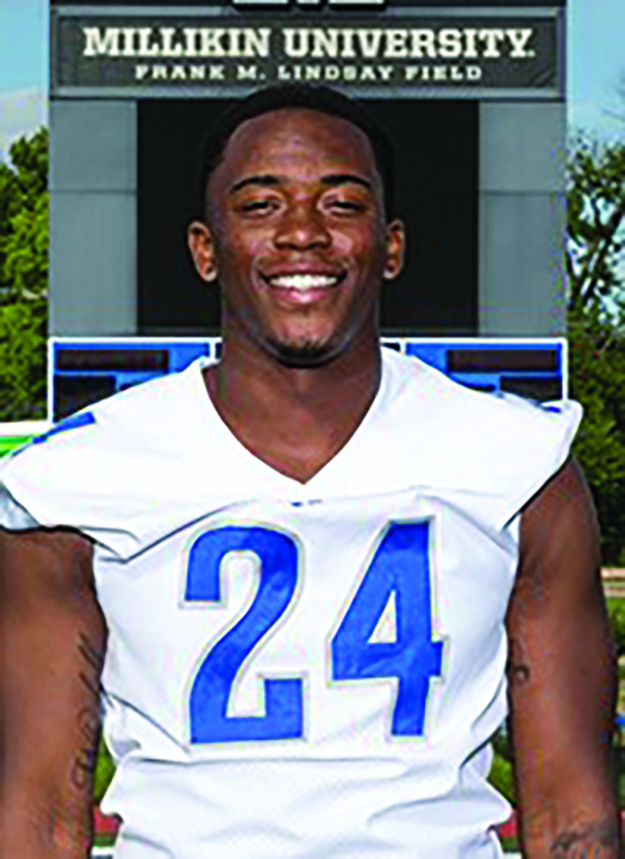 Photo Courtesy of Millikin Athletics
The coronavirus worldwide pandemic has proven to put a halt on a lot of what has made college experience what it is; events on the quad, opportunities to meet the incoming students, and, of course, sports. 
The transition into fall just isn't the same without lively football games that bring out the campus community. Nonetheless, players both old and new continue to practice and prepare for the upcoming season while also navigating the hybrid learning environment. One of these dedicated student athletes is senior physical education major from Rockford, Illinois, Kei'von Evans. 
Evans, who plays the position of linebacker for the team, has made a name for himself off the field as well. Despite stepping back from a few positions during his senior year, he has served as a resident assistant for two years, an EDGE mentor for one year, and also is a part of the only Divine 9 fraternity on campus, Alpha Phi Alpha Fraternity, Inc. where he also served as president for a one year term.  
Evans recognizes the way football impacts him, and how it impacts how he views the world around him. 
"My favorite thing about football is the lessons it teaches you.. with football it comes building a type of ownership, it teaches you how to deal with adversity.. When it comes down to it you never know when it's going to be your last snap, your last practice, your last game, your last time on that field.. just being with the guys everyday it's very soothing, it's all love."  
Though COVID- 19 has obviously hindered the ability for football to have games right now as well as many other Division III sports, Kei'von points out how Millikin has done their part to create a safe practice environment for members of the team. 
When speaking about meeting and interacting with his teammates, he says, "Most important thing is that we're following the guidelines, practicing our social distancing, but also being creative and thinking outside the box."  
Evans also mentions how the coaches have done their parts, saying, "The coaches have done an amazing job with maintaining the guidelines, we make sure when we are on the sidelines we are all wearing masks, we even moved our weight facility from the DISC outside to the field. We're all doing the best we can, playing it by ear to the day [we can play again] and be thankful because tomorrow is not promised." 
He credits his coach for a lot of the valuable lesson he learned throughout his years at Millikin, stating, "Coach Gritti did an amazing job of molding us, teaching us to love one another but also be competitive, be vulnerable, be mentally tough, and most importantly be men on and off the field and hold each other accountable." 
 As his collegiate football career progress, he also acknowledges how being a part of the Big Blue has contributed to his growth as a person. 
One of the biggest lessons he takes away is, "Time management, being responsible, and taking ownership."