Athlete Spotlight: Fiona Rosko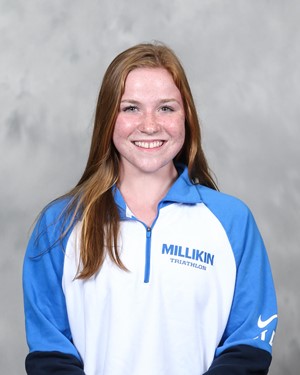 Alex A. Kennedy 
November 23, 2019
Last weekend, the triathlon team ventured to Arizona to compete in the NCAA National Championships. Among the ranks of these spectacular triathlete is Fiona Rosko, a freshman who was recently welcomed into the Millikin community this year.
From the pool to land and back again, Fiona Rosko is a freshman with a busy schedule. Coming across the country from Seaside, California, Rosko is studying for her undergraduate in Biology. In the morning, afternoon, and on weekends, six days a week Rosko sets aside hours of her time to compete in multiple sports throughout the school year.  
Rosko is on Millikin's triathlon and women's swimming teams and has been swimming for over the past five years. 
Triathlon season started practicing in August, and Rosko and the triathletes had their first competition on September first, over two months ago. 
Rosko started off her triathlon season in Pleasant Prairie, Wisconsin with a time of 1:16:12.41, bringing her a thirteenth-place finish, or three positions behind Millikin's top finisher. Last year Millikin finished third at the NCAA National Championship meet, and with Rosko being one of five new triathletes added to the triathlon team, they are the 'team to beat' at this year's championship.  
At the beginning of the swim season, Rosko changed strokes to swim distance breaststroke, against Carroll University. Rosko helped the team score maximum points in the 200 breaststroke and the 400-medley relay, winning in both events. 
In the end, Millikin beat out Carroll by five points, bringing the final scores of the meet to 105 – 100, leaving Millikin victorious. Millikin's next swim meet will occur the weekend of November 22nd -24th in Chicago, Illinois at the University of Chicago. 
Rosko, being a freshman, is newer to campus. Meaning most students have yet to meet or talk to her. 
Rosko is a kind, smart, strong, and all around amazing gal. Rosko is most looking forward to "getting to know her teammates" as the season progress and swimming starts, she also wants to get as many best times as possible. 
Rosko is pursuing a degree in biology in hopes of becoming a surgeon. She has chosen to follow this major because "it is something that has always interested her."
 And while it is hard to juggle school and extracurriculars at times, Rosko appears to have acquired the time management skills to take care of any problems that may arise. With the assistance of Coach mandated study sessions, and NCAA grade standards, Rosko is the definition of a student athlete.   
Rosko does more than train, study, and train more, before being welcomed into the Millikin community, Fiona was a very talented dancer. She learned and was trained to Irish dance, and Rosko still possess the talent to break out in dance to any fiddle if given the chance. 
As Rosko heads closer to the end of the season of triathlon, her goals of swimming become more realistic, and she hopes to improve on all her main events, distance and breaststroke, this season and "make an impact at conference." 
From past triathlon competitions and swim meets results and comparisons, Rosko has already improved in a few of her events. As for making an impact, Rosko is referring to adding points to the teams overall score, in hopes that it will raise it higher than opponents. 
Rosko is on her way to placing at conference and gaining a large sum of points for Millikin. At conference, NCAA National Championships, and every event in between, Millikin will be wishing her, and every other athlete on the team, the best of luck.   
The chance of passing by Rosko on the way to class is high, due to her having to run back and forth between practice and class. If any student happens to notice or see her, I would encourage you to congratulate her on her efforts and strike up a conversation. 
I assume that any interaction with Rosko is a positive one, that is sure to brighten anyone's day.