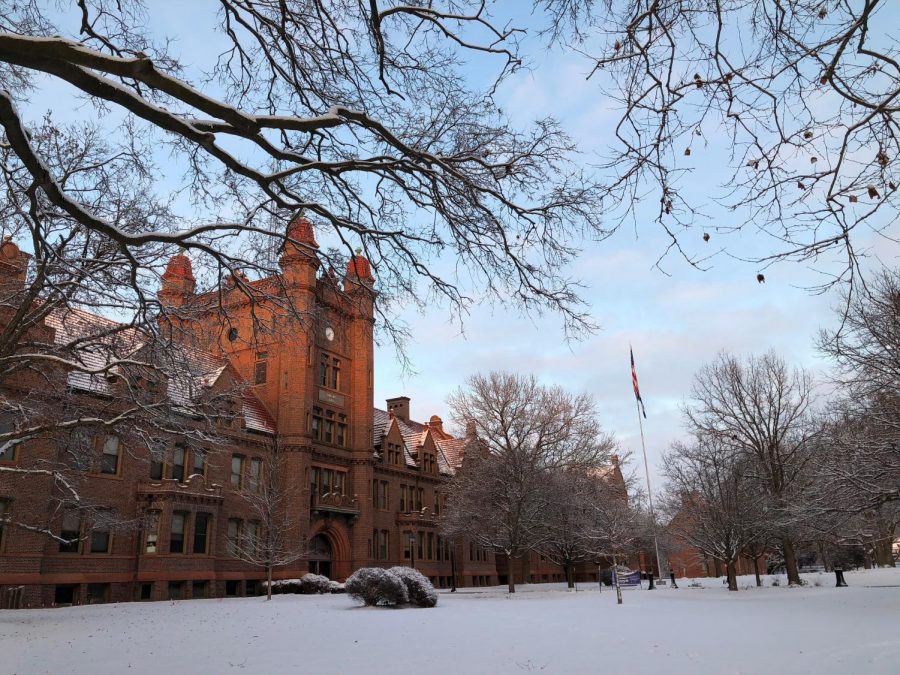 On Thursday, March 12, 2020, Millikin made the decision to extend spring break until March 22. Beginning March 23, all classes will move online for the rest of the semester. On-campus events scheduled between March 16 and April 30 have been canceled.  
Dr. Patrick White, Millikin's president, sent an email to the campus community about this decision. The email detailed some of the plans for the following weeks.
"In this challenging and rapidly changing time for our campus, I thank you for your attention and care; and I ask for the cooperation of each and every member of our campus community," White wrote in his email. "We regret having to make these changes. I know we can count on our concern for one another and our commitment to Millikin University's promise and greatness to get us through these challenges and emerge a stronger and better community."
This announcement comes in response to COVID-19, more commonly known as the coronavirus. Several colleges and universities across the country are closing their doors to combat the spread of this global pandemic.
Millikin has now done the same. 
White's email expressed plans for the use of technology and distance learning methods so that students and professors can continue classes online.
"In spite of the severe disruption to our academic calendar we are going to work together to help assure that students can continue to progress toward fulfillment of their educational goals, including timely completion of their degrees," White wrote in his email.
The email also addressed concerns about housing. Despite White's encouragement that students stay home, the residence halls will remain open. Students who will not return to Millikin in the following months can retrieve their belongings throughout March 16-20.
Students who live in the Woods and Greek houses are still unsure how this decision will affect their housing.
White said that more information regarding online classes will be distributed next week.
The decision to extend spring break and move classes online comes after President Donald Trump's address to the nation on March 11. In his speech, Trump announced a travel ban to Europe for the next 30 days beginning on Friday, March 13.  
At the time of this announcement, several Millikin students were in Europe for spring break trips or immersion classes. Trump's address prompted frantic attempts to travel back to the U.S. before the ban came into effect on March 13. Most of these travelers have been asked to self-quarantine for 14 days following their return to the U.S.
In addition to this travel ban, White mentioned several other cancellations made in the last few days, including the suspension of Broadway shows in New York City and the NBA's decision to end its season. He pointed to these actions as precautions to slow the spread of COVID-19.
"As you probably have discerned yourself, the situation with the COVID-19 virus and the reaction to it is changing even more rapidly than we imagined," White wrote.
White's email comes less than 24 hours after Millikin announced plans to continue classes as scheduled. On March 11, students received an email from White that said classes would resume on March 16 after spring break despite the spread of COVID-19. 
After this email, students took to social media to express their dismay. A petition to move classes online circulated through Facebook, and students encouraged each other to contact White about their anger regarding Millikin's decision to remain open. Most of these students cited health concerns as the reason for their disagreement.
After White's email on March 12 detailing the "change of plans" and Millikin's decision to move to online classes, students are now using social media to comfort one another. Many people are saddened by the changes to the semester, but most seem understanding of the university's decision. 
Students hope for more communication in the coming days about what will happen next. More information about Millikin and COVID-19 can be found at millikin.edu/covid19.
"With characteristic Millikin care and thoughtfulness, we will be able to help one another thrive even in this difficult situation," White wrote in his email. "Thank you all for being Millikin to one another and our larger community."