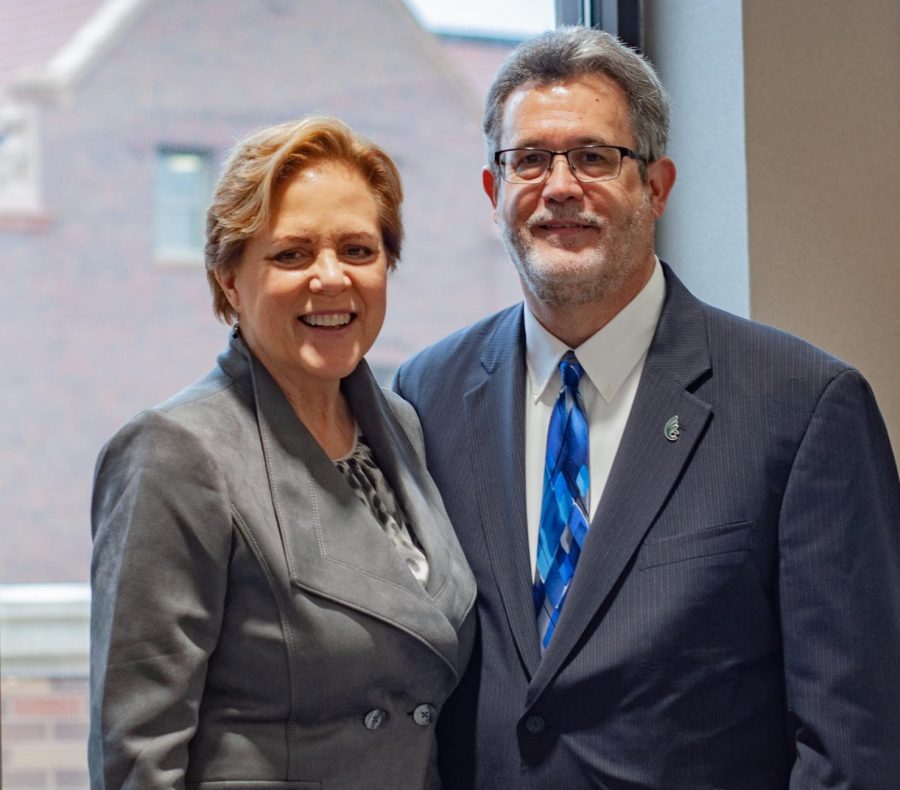 Photo by Athena Pajer
Effective July 1, 2020, Dr. James Reynolds will become the sixteenth president of Millikin University. He succeeds Dr. Patrick White, Millikn's current president, who will retire this summer.
Reynolds has plans to reconnect alumni, attract and retain students, and improve the relationship between Millikin and the Decatur community. Above all, he wants to focus on the university's growth.
"My wife Sue and I have always been really connected with the university, and I want to meet as many students as possible," Reynolds said. "I think we both see this as a calling, and that's kind of a big deal for us. We want to invest ourselves as deeply as we can and be a really strong partner with the faculty and staff and students."
While Reynolds has several plans for improving Millikin, he also wants to develop current initiatives. He has prioritized getting to know the Millikin community, a process that he calls his 120-Day Plan.  
"I just want to frame my time to speak with the people on campus and get better acquainted with the work that they're doing and get to know the students," Reynolds said. "I think going into that process, you need to understand all the great things that are taking place currently and where you want to be in the future. I see the things that you're already doing as really valuable and things that are of merit to continue."
Reynolds has served as the president of Wilmington College in Ohio since 2012 after becoming the interim president in 2011. He has also worked in administrative positions at Midland Lutheran College and Drake University. 
Reynolds's election comes one year after White's retirement announcement. Millikin's Board of Trustees then organized a presidential search committee. According to Randell Blackburn, the chairman of the Board, the committee received approximately 60 applications.  Blackburn would like to thank the committee for their time.
The Board of Trustees appointed Reynolds as Millikin's sixteenth president after a unanimous vote. Blackburn credits Reynold's experience for his election.
"He by far had more experience than any other candidates we talked to," Blackburn said. "He demonstrated a capability of fundraising and described a process of fundraising that appealed to the Board…He's also deeply committed to athletics, and he's committed to Performance Learning…He also very much enjoys engaging with the students, just like Dr. White does."
To take this position, Reynolds will be returning to Decatur, his hometown. This could be an asset as he works to develop the relationship between Millikin and the Decatur community.
"I really have been invested in Decatur for a long time," Reynolds said. "It's really a special place for me, and it's just an honor to come back to your hometown and be a part of something as special as Millikin University."
When his two daughters were younger, Reynolds would take them to visit their grandparents and family friends in Decatur. He would show them the places that were important to him when he was growing up. Reynolds will be moving to Decatur with his family, including his two dogs, Phoebe and Georgia.
"They are sweet dogs," Reynolds said. "They look like they're wearing glasses, and they bond with everybody in the family."
Reynolds is looking forward to beginning his new job. He will take the position effective July 1, 2020.