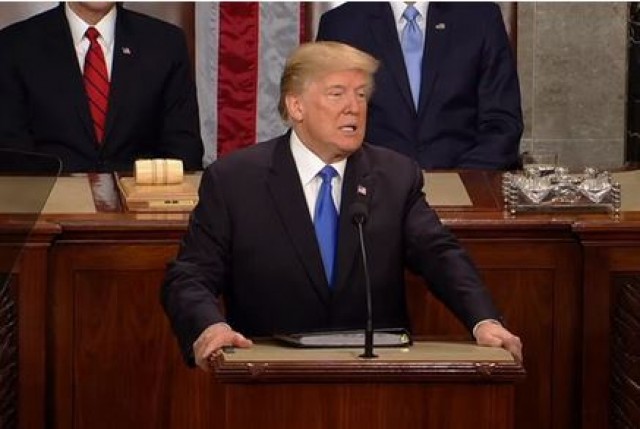 Photo Courtesy of army.mil
President Donald Trump delivered his State of the Union address on Tuesday, Feb. 4, 2020. He touched on several major issues, including the economy, healthcare, and immigration.
In an unprecedented move, Republicans chanted, "Four more years," as Trump entered.
He gave copies of his speech to Vice President Mike Pence and Speaker of the House Nancy Pelosi as he took his spot behind the podium
. He then appeared to reject Pelosi's handshake.
Trump began his speech by looking back at his presidency and summarizing some of his accomplishments
.
"In
just
3 short years, we have shattered the mentality of American decline, and we have rejected the downsizing of America's destiny," Trump said
. "We are moving at a pace that was unimaginable a short time ago, and we are never ever going back."
He said that there have been seven million new jobs created since his election and that unemployment rates are at the lowest they have been for half a century
.
Trump told the country that he replaced the "disastrous" NAFTA trade deal with the United-States-Mexico-Canada Agreement (USMCA)
. Experts expect the bill to create 100,000 new jobs and improve trade with Mexico and Canada.
Trump also discussed the recent creation of the Space Force, the newest branch of the United States Armed Forces
. President Harry Truman added the last branch, the Air Force, over 70 years ago.
The cameras panned to several of Trump's guests throughout his speech, including Juan Guaidó, who Trump referred to as "the true and legitimate President of Venezuela," and fourth grader Janiyah Davis
.
While discussing school choice and Opportunity Scholarships, Trump announced that an Opportunity Scholarship was going to Davis
.
He then urged Congress to pass the Education Freedom Scholarships and Opportunity Act, and he praised First Lady Melania Trump's "Be Best" initiative
.
Trump promised to protect Medicare, Social Security, and private insurance. He also discussed pharmaceutical companies and the cost of prescription drugs.
There were several audible responses from Democrats throughout Trump's speech.
In response to Trump's request for a bipartisan bill that will lower prescription drug costs and his promise to sign such legislation "immediately," Democrats stood, raised three fingers, and chanted for HR 3
.
This bill, called the Elijah E. Cummings Lower Drug Costs Now Act, would allow the Health & Human Services secretary to negotiate for lower prices of brand-name medications
.
In his comments about healthcare, Trump honored Rush Limbaugh, a conservative radio personality who was recently diagnosed with stage 4 lung cancer, with the Presidential Medal of Freedom
. Melania Trump presented Limbaugh with the medal.
Trump urged Congress to provide funding for neonatal research and pass legislation banning late-term abortion
.
On immigration, Trump commended the "heroic" U.S. Immigration and Customs Enforcement (ICE) officers who arrested over 120,000 "criminal aliens" in 2019
.
He also discussed California's "outrageous law" that made California a sanctuary for undocumented immigrants
.
Trump asked Congress to fund the Artemis program with the hopes of putting American astronauts on Mars before any other nation
.
"In reaffirming our heritage as a free nation, we must remember that America has always been a frontier nation," Trump said
. "Now we must embrace the next frontier, America's manifest destiny in the stars."
Trump discussed terrorism and the deaths of ISIS leader Al-Baghdadi and Qasem Soleimani.
He also addressed current tensions in Iran.
"The Iranian regime must abandon its pursuit of nuclear weapons, stop spreading terror, death, and destruction, and start working for the good of its own people," Trump said
. "Because of our powerful sanctions, the Iranian economy is doing very
poorly
. We can help them make it very good in a short period of time, but
perhaps
they are too proud or too foolish to ask for that help. We are here. Let's see which road they choose. It is
totally
up to them."
Trump also discussed the wars in the Middle East and efforts to end these wars soon.
He concluded his address with comments about America's greatness.
"America is the place where anything can happen," Trump said. "America is the place where anyone can rise. And here, on this land, on this soil, on this continent, the most incredible dreams come true."
The State of the Union address comes one day after the Iowa caucus. According to the results from the caucus at the time of writing, Trump had a 97.1% lead in the Republican polls.
Former South Bend, IN mayor Pete Buttigieg led the Democratic polls with 26.9% of votes, followed by Senator Bernie Sanders (25.1%), Senator Elizabeth Warren (18.3%), former Vice President Joe Biden (15.6%), and Senator Amy Klobuchar (12.6%)
.
Tensions were high throughout the State of the Union address. Most reactions seemed to
be divided
along party lines.
Several Democratic Congresswomen wore white clothing to make a statement about women's rights
.
The choice to wear "suffragette white" also marks the 100th anniversary of the ratification of the 19th Amendment, which gave women the right to vote
.
Pelosi tore up a copy of Trump's speech after the address concluded.
Trump is the second president to deliver a State of the Union address while undergoing a Senate impeachment trial
. Trump has also made history as the first impeached president to run for reelection. Experts expect the Senate to acquit Trump in a vote set for Wednesday, Feb. 5.