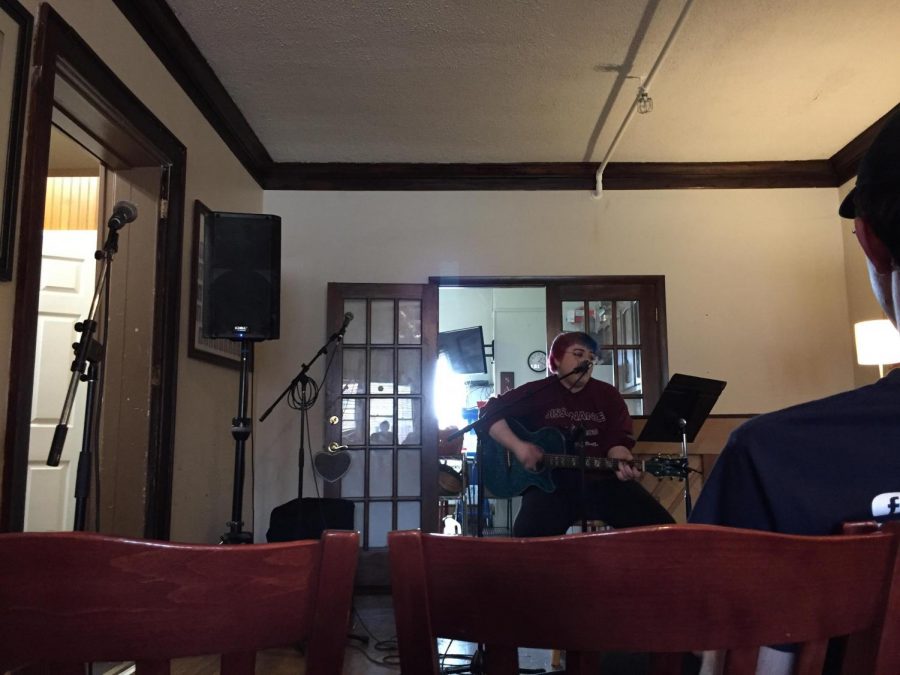 The Common Grounds isn't the only place to get a dose of caffeine anymore.
The Illinois Delta Chapter of Sigma Alpha Epsilon (SAE) hosted the "Coffeehouse for the Cure" event on November 23 from 11 AM to 5 PM at their chapter house. Tickets were $5 presale and $7 at the door. 
One mug and an unlimited amount of coffee or tea automatically came with the purchase of a ticket. Baked goods such as brownies, cookies, and rice crispy treats were selling from 50 cents to a dollar. Sandwiches were $2, and cups of hot chocolate were $1 each. 
Everything sold, including the tickets, could be purchased via the Venmo app, which many took advantage of. 
Entertainment was also available, as many groups and solo artists performed. For the first 30 minutes, the microphone was left open for anyone to come up and perform. After that, there was a set list of acts and performances from many. Groups ranged from Millikin's own Blue Harmony and Dissonance to outside bands like The Hangovers and Sunset Drip to duo Grace Newton and Tanner Hake. Many SAE members also were listed to perform, such as Alex Vidales, Al Joritz, and president Austin Oberg.
SAE's VP of Philanthropy, junior Justin Daley, explained what the event was for. 
"Coffeehouse for the Cure is about getting as much money as possible for the Children's Miracle Network, which is SAE's primary philanthropy," Daley said. "[It's] dedicated to getting kids the help they need in underfunded children's hospitals throughout the nation and locally." 
According to their website, the Children's Miracle Network "raises funds and awareness for 170  member hospitals that provide 32 million treatments each year to kids across the U.S. and Canada." 
In the About Us section, it explains how the charity provides funding along with Medicaid, other insurance programs, and community donations. 
One such CMN-affiliated hospital is HSHS St John's Children's Hospital in Springfield, IL. The website's description mentions the hospital's collaboration with Southern Illinois's School of Medicine and its specialities, which include "hematology-oncology, cardiology, critical care, behavioral pediatrics, gastroenterology, genetics, infectious diseases, neonatology, nephrology, neurology, pulmonology, and various pediatric surgical areas."
The relaxed, cozy atmosphere of the event was no mistake, as Daley explained. 
"We've been doing [Coffeehouse] for a while, right? But it's just like, we noticed that we had so many brothers that were just able to perform at a moment's notice," Daley said. "Like, we have so many musicians in the house, so many theater majors in the house…It just made sense. Also, it's great to reach out to this community because Millikin is liberal arts. There's so many people who understand." 
There's more to come from SAE next semester, as the fraternity partners with many organizations.
"We do a big philanthropy event maybe twice a semester," Daley said. "But we also have side events. Historically, we've worked with the Dennis Lab School. We've also had a partnership with Old Kings Orchard."
As to what VP of Philanthropy entails, Daley enjoys working with people and organizations. 
"The part that's good is actually getting out there and helping people, finding these service opportunities and wanting these events that bring joy and a lot of goods, [especially] money, to good people," Daley said.
The SAE Illinois Delta house is located on 1165 W Main St, Decatur, Illinois 62522.