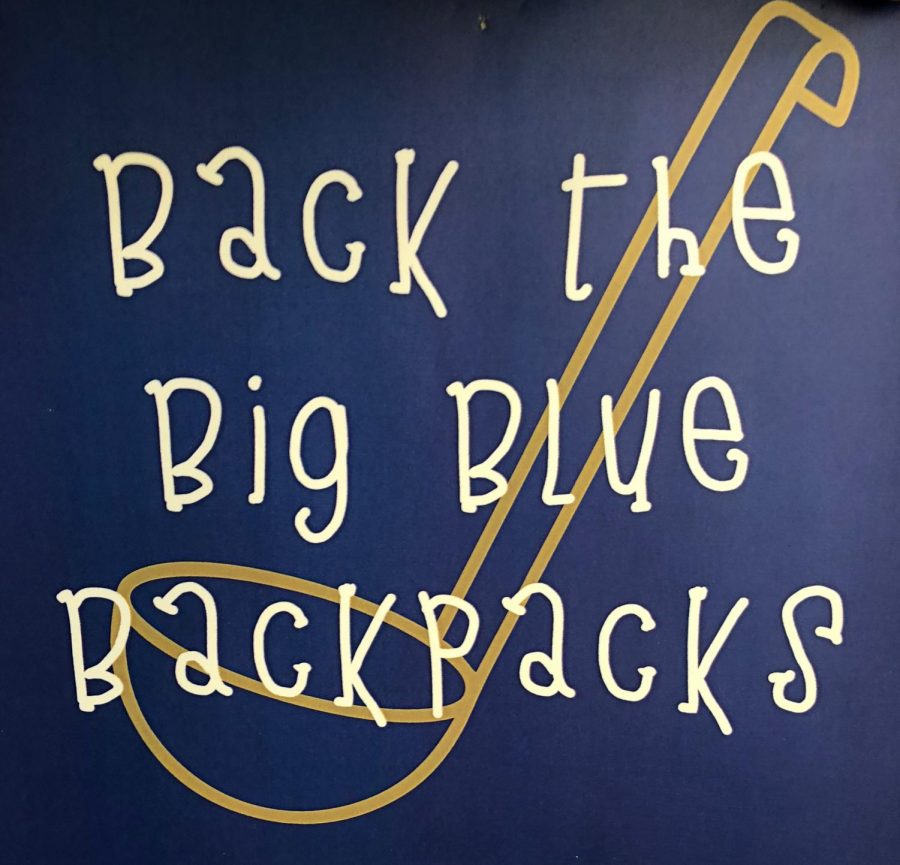 On Tuesday, Dec. 3, Millikin's Event Planning class will host a soup dinner called Back the Big Blue Backpacks. Proceeds from the event will go to the Big Blue Backpacks organization.
"It moved from being a class and this being our grade to it being a fun event that we're putting on for a good cause," Sydney Stoewer, one of the event's co-chairs, said. "I think that's been the coolest thing."
The event will take place from 5-7 PM in the UC ballrooms. There will be three kinds of soups available along with biscuits, drinks, and desserts. Tickets cost $5.  
The Event Planning class, which many upperclassmen take as an elective, always plans a big fundraising event as their final project. This is the first year that they are working with Big Blue Backpacks.
Big Blue Backpacks is a Millikin organization that partners with Dennis Lab School. This organization sends meals and snacks home with students every week. There are approximately 80 Dennis Lab School students currently enrolled in the program. Once a week, volunteers go to the Good Samaritan Inn to pick up and package the food.  
"They just do it from the warmth of their hearts because they know that the Dennis Lab school kids really need it and it helps their families a ton," Stoewer said.
Big Blue Backpacks relies heavily on community donations. When Marilyn Davis, the professor of the Event Planning class, suggested that the class could work with the organization for their final project, the students agreed.  
"It's a good organization," Stoewer said. "I hope to help with their organization afterwards because it's been fun to learn about. So I hope this encourages students to get more involved with the organization as well."
The Event Planning class hopes to sell all 225 tickets, which is the maximum capacity of the UC ballrooms. Their goal is to raise $562.50, and they will also be accepting donations at the event.  
Mary Garrison, a Millikin professor and the faculty adviser of Big Blue Backpacks, will speak at the event along with a few of her students. Mary Alice Roach, a music student at Millikin, will provide entertainment.
There will also be a silent auction. People and businesses in Decatur have donated auction items and decorations to help with the event.
With a budget of $100, event co-chairs Stoewer and Sierra Muma organized the event along with the rest of their class. They even recently worked with Chef Brian Pehr to prepare the desserts. According to Stoewer, Pehr is providing the food for the event at a discount. Besides this expense, all other proceeds from the event will go to Big Blue Backpacks.
While this event is an assignment, Stoewer says that it has become much more than that.
"At the beginning of the semester we were like, 'Okay, we just have to put on an event for our class,'" Stoewer said. "We didn't know what organization we were going to do. It was just like, we just want to get a good grade. But after learning about the organization and having it all come together, it's definitely become more of, 'Oh my gosh, we're doing this good thing for the community.'' That's probably been the best part about it."
In previous years, the Event Planning class has organized events to benefit organizations like St. Jude Children's Research Hospital and other national groups. This year, they're excited to work locally.
"This year, actually working with a Millikin organization, I think it brings the campus together more," Stoewer said. "It brings awareness to all the good things that Millikin does because some of these things just get passed by."
The event will take place on Dec. 3 from 5-7 PM. Tickets are available for $5.