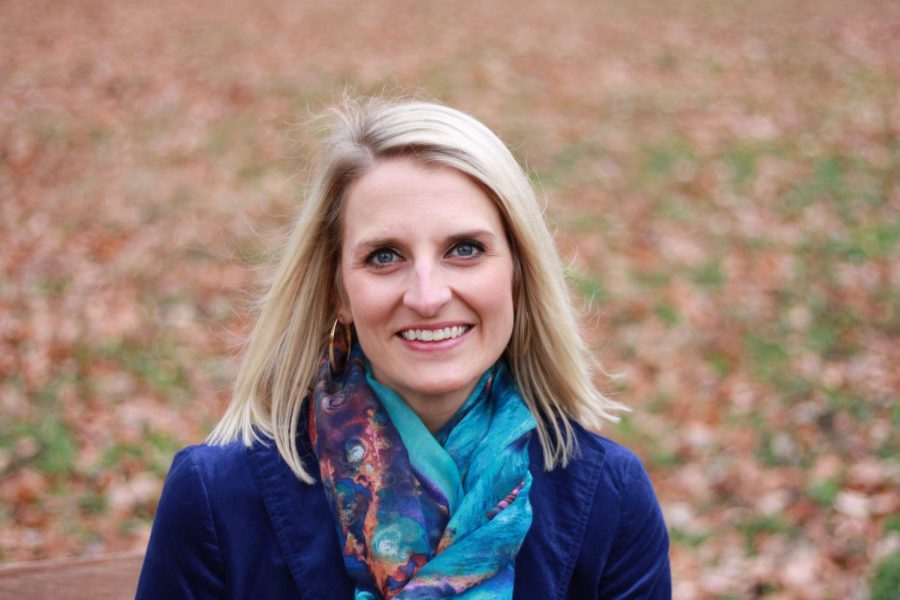 Effective Jan. 2, 2020, Molly Berry will leave the Office of Campus Life to fill the position of Associate Director of Alumni Engagement in the Alumni and Development Office.
Berry has worked at Millikin since 2007. She started as a hall director, supervising resident assistants (RAs) before moving on to bigger roles in the university. She has held her current position as Director of Inclusion and Student Engagement for the past six years.
"The cool thing about a place like Millikin is that as long as you are invested in the campus, you can continue to kind of hop around where your needs are and where you can kind of grow in those positions," Berry said. "I was lucky enough that Millikin let me grow in different positions as I moved my way up."
As Director of Inclusion and Student Engagement, Berry oversees RAs and First Year Experience Mentors (FYEMs). She also helps coordinate New Student Welcome Week and Homecoming Week, and she works closely with Greek Life.  
In her new position in the Alumni and Development Office, Berry will deal less with current students and more with alumni. For example, she will still be involved with Homecoming Week, but her focus will be on the alumni events.
"We're just really thrilled to get to work with Molly," Alyse Knust, Senior Director of Alumni Engagement and Annual Giving, said. "She's done amazing work over here and she's just so beloved by the student body, and so we're excited to translate that into alumni work and how she can continue to build upon people's love of Millikin over on the alumni side of things."
Among her other responsibilities, Berry will be working primarily with recent Millikin graduates.    
"The reason I thought that alumni engagement is my next best move is that I have 13 years of working with college students who are now young alums, and I think Millikin, like many institutions, really struggles to engage young alumni," Berry said. "I know that's a challenging market to engage, so I want to help where I can…I have a lot of great relationships with our young alums because they are former RAs and former FYEMs for me. They've been working for me for years, and so it's going to be really fun to see them from the opposite side of the lens."
According to Berry, timing was important when it came to her decision to join the Alumni and Development Office. Berry's daughter, Gemma, is seven months old, and Berry says that it has been difficult to continue the night and weekend schedule that she currently holds ever since Gemma was born. 
After returning from maternity leave in July, she started to consider whether she wanted to keep her current job or search for a new position. 
The role of Associate Director of Alumni Engagement recently opened when Erika Brewer, who held the position previously, left Millikin after Homecoming Week to pursue an opportunity at another university. Berry decided that this position was a natural fit for her.
"She really wanted to stay here at Millikin. She's got a heart for this place and the people here, so it was just kind of serendipitous timing that it all worked out for us," Knust said. "All the puzzle pieces kind of fit perfectly into place for us."
Moving forward, the Office of Campus Life is looking to hire someone to fill Berry's position, but there will likely be some changes to the job. Last summer, the Office of Residence Life, Office of Inclusion and Student Engagement, and the University Commons merged to create the Office of Campus Life. As a result, those who are involved in the Office of Campus Life have taken on new roles, including some aspects of Berry's work.
"The goal was to really heighten our service, offer more options for students, and for us to continue to collaborate and work together in a more intimate way," Paul Lidy, Dean of Campus Life, said. "A number of responsibilities that Molly has have been dispersed within the people in the office…All of those entities, all those things will still have a home within Campus Life, it might just have a different point person or interim person until we have things settled."
As soon as the university approves the job description, the Office of Campus Life will launch a search for a candidate to fill Berry's position. They hope to have someone lined up by summer 2020.
This person will assume the new title of Director of Campus Life and Inclusion. Lidy hopes to increase the focus on inclusion through this new position.
"I do hope that this new hire that we have is somebody who's ready to come in, do the work, get to know the students, really integrate with our faculty and staff, and really champion a lot of the work through social justice initiatives, through inclusion and equity and overall diversity, and also continue to be a fit for Millikin and Decatur and Macon County," Lidy said.
Meanwhile, Berry is looking forward to transitioning to her job in the Alumni and Development Office next semester.
"I love the fact that you can build a history at a place and develop relationships for a lifetime. I don't think I'll hop. I think Millikin is the place for me, and that's why I chose to stay at Millikin instead of searching to go somewhere else," Berry said. "It's hard to imagine me without Millikin. So I would like to stay here for a long time, as long as that's the best fit for me and the institution."