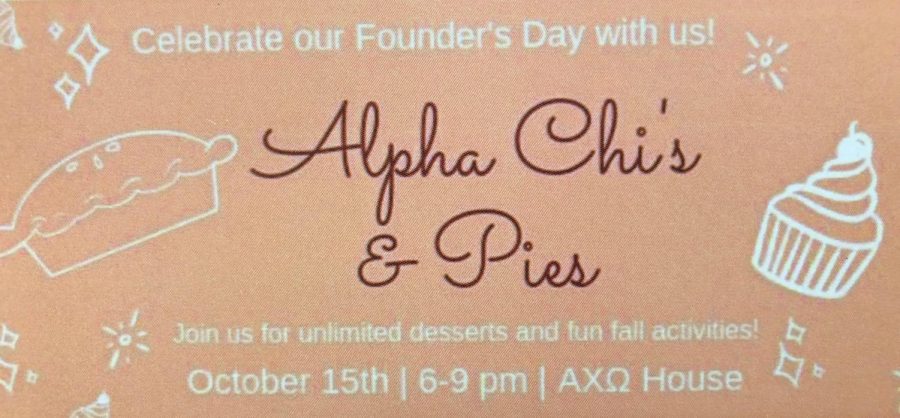 On Oct. 15, Millikin's chapter of Alpha Chi Omega will host their fall philanthropy event, Alpha Chi's and Pies. Proceeds from the event will go to the local Dove Women's Shelter.
"You can just show up, eat unlimited dessert, and just hang out and do fun activities," Marissa Martinez, Alpha Chi Omega Vice President of Philanthropy, said.
The event is from 6-9 on Oct. 15. Members of Millikin's Alpha Chi Omega chapter will prepare dessert dishes for attendees to share and enjoy.  
There will also be a pie-eating contest at 6:30. Martinez recommends that people who are interested in participating in the contest should arrive early to claim their spot. The winner will receive a $15 gift card to Perkins Restaurant and Bakery.
While Alpha Chi's and Pies is an annual event, there are several changes this year. The pie-eating contest is new, and there will be outside seating in an effort to minimize the crowd inside the Alpha Chi house. To maximize seating, some of the activities will take place in the parking lot outside of the Alpha Chi house.
"The original idea was just trying to find a way to fit everybody there, because in previous years, everybody was really close together and crowded," Martinez said. "So we were just trying to find a way to expand on that and use all our resources, and then just trying to think, what can we do to make it a more fun event?"
Besides eating desserts, attendees can also participate in fall activities, such as coloring fall-themed coloring pages. "Pie a Chi" is another addition to this year's event. People can pay $1 to shove whipped cream in an Alpha Chi's face.  
"Seeing some of my sisters get pied in the face, that sounds like a lot of fun," Jacqueline Freed, a sophomore member of Alpha Chi, said. "But I'm just excited for everyone to come and have fun eating dessert and getting to know each other and supporting a really great cause."
While there are changes from previous years, the event is always well-attended. Martinez expects high numbers.  
"We're hoping to have just as many people as we did last year," Martinez said.
At its heart, Alpha Chi's and Pies is a philanthropy event. Domestic violence awareness is Alpha Chi Omega's national philanthropy. 
Members of Millikin's chapter have been working to spread awareness throughout October, which is Domestic Violence Awareness Month. They placed purple ribbons with facts about domestic violence throughout campus. They have also had a table in the UC every Friday to spread awareness and sell tickets to their philanthropy event.
10% of the money raised at Alpha Chi's and Pies will go to the national Alpha Chi Omega chapter. All other proceeds will go to the Dove Shelter in Decatur.
The Dove Shelter is a local women's shelter that provides support services and housing to victims of domestic violence. Millikin's Alpha Chi chapter works closely with the shelter.  
"We've been working with them for years and years and years," Martinez said. "Whenever we have philanthropy events or we want to donate, I just contact the lady that's in charge of the Dove shelter and ask, 'Hey, how can we help you this year?'"
Earlier this semester, Alpha Chi raised money for welcome bags to give to the kids who come to the Dove Shelter. This, along with their other charitable projects, was a success.  
"It feels really good knowing that we're able to help them…and do really good things for the people there," Martinez said.
Alpha Chi's and Pies is the biggest philanthropy event of the year for Millikin's chapter. They are hoping to raise as much money as they can to donate to the Dove shelter.
"The people dealing with [domestic violence] and who are surviving it, they need all the help they can get," Freed said. "So by having this event and being able to raise money for them – that's a really good feeling that we can help them out in any way possible."
Members of Alpha Chi will be selling tickets for $5, or tickets can be bought at the door for $7.