Political Science Department Registers Student Voters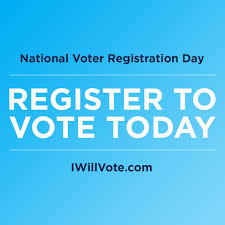 Sept. 24, 2019 was National Voter Registration Day. Millikin's political science department volunteered to register students to vote until 5:00 that evening.  
The event was organized by political science professor Dr. Laura Dean. Dean asked students form her department to work tables in the University Commons. Students, along with Dean, acted as registrars for Macon county. 
"It is important for students to vote because this is a large voter block that never really participates in the voting process but likes to air their grievances about the results," Jasmin Coronel, a political science major, said.  
To be an official registrar, one must live in the county that they wish to register citizens in, and they must be registered to vote in that county. 
Macon County Clerk Josh Tanner attended a previous political science event on campus called Political Café. Political Café allowed political science students to meet for coffee and discuss politics in an informal setting. During the Political Café, Tanner and his staff swore in several students as official registrars of Macon county, allowing them to register Macon county citizens to vote.  
Table workers not only registered students but also provided them with information on where to vote online and how to register in their hometown. They informed students about absentee ballots, which is a way for citizens of Illinois to vote via mail come election time.  
Students could also learn about early voting, which allows registered voters to vote before Election Day. Early voting allows students to plan ahead and do their civic duty, especially if their Tuesdays are often busy. Anyone interested in early voting must do so at the Macon County Office Building at 141 S. Main Decatur.  
The voter registration event was an overall success, and the political science department registered 53 students. Unfortunately, that is less than 3% of Millikin's student body.  
Coronel said that she thinks a lot of students do not vote because it is inconvenient.
"You may have to mail in your ballot because you don't live in state, or the [polling] location is too far, or you have class," Coronel said. 
Several students told registrars they had already registered to vote or that they planned to register in their hometown.  
Many students who passed by the table expressed their reasons for not voting. One student even claimed to be an anarchist and provided his opinion on why he does not vote.  
Coronel said that the opinions of students who do not vote are "still valid, but they lose a bit of credibility."  
There is still plenty of time to register before Election Day. Students that fail to register before Election Day can still do same-day voter registration. Illinois is one of several states to implement same-day voter registration. This allows people to register to vote on Election Day before they cast their ballot. However, Tanner does not recommend waiting until then because the lines are typically long, and you will have to wait to register before voting.
Anyone interested in registering themselves online should visit https://ova.elections.il.gov/. If you are unaware of your registration status, you can check it at this same website.  
The political science department plans to hold another event in the spring to register voters. The department also plans to drive students to their respective polling places on Election Day.  
Getting involved in the electoral process is especially hard for college students because they are often juggling school, work, and other extracurricular activities. By registering students and driving them to polling places, the political science department has made it easier for students to voice their views in government.