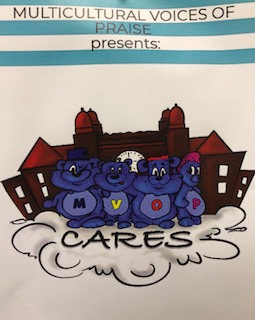 Photo by Sydney Sinks
Millikin's student organization Multicultural Voices of Praise is gearing up for a busy end to the semester. Their MVOP Cares program has become one of the most important events of the year.
Multicultural Voices of Praise, or MVOP, is a faith-based organization on campus. They sponsor many events for their members, and these events are also open to other students and the public. A major focus of the organization is MVOP Cares.  
MVOP Cares is a nonprofit program that assists Millikin students. The organization purchases toiletries, nonperishables, and other items for students who need them. These items are stored in Walker Hall. So far, there have been two events, called care shops, where students can come to Walker Hall and get the supplies that they need for no cost. This program is in operation throughout the year, and it is growing.  
"MVOP Cares is really our main focus. It's free to all students," Ash Haley, MVOP president, said. "We get things like detergent, body wash, razors, even little snacks, noodles, sometimes canned goods. And it's just open to whoever needs it."  
Haley, a senior sociology major, said that MVOP is planning to sponsor one more care shop before winter break. They are also hoping to plan more MVOP Cares events in the spring semester.  
The MVOP Cares program has been an important event for the organization for many years. While it is currently held in Walker Hall, the group is hoping to expand the program and find a new location soon. A major issue has been advertising to students who might benefit from the program but who are unaware of the event.
"It's been really small and not many people have known about it, and it's still kind of growing. There are still students out there who need things and aren't getting what they need," Haley said. "It's a judgement free zone. We're all college students, and we're all broke, so if you need something…It's a very great resource, honestly."
Students who need supplies can come to the care shops to get what they need. Students who wish to help organize the program can talk to MVOP members and attend MVOP activities.
MVOP has changed a lot since its introduction to Millikin. The faith-based group began as a choir, but they have since opened up their organization to include other activities. The organization now sponsors many events throughout the year, and anyone can attend these events. MVOP members who want to sing can still join the MVOP praise team, but there are also nonmusical activities for members and nonmembers. Most MVOP events are open to the public as well as students who are not involved in the organization.    
As the semester winds down, MVOP is planning multiple activities. On Friday, November 16, MVOP is hosting a Thanksgiving dinner. This event will include spoken word poetry and poetry readings. The organization is also hoping to plan another care shop before winter break.  
Next semester, MVOP will sponsor an extravaganza for Millikin students. This extravaganza takes place every spring, and MVOP partners with other organizations on campus to plan this event.    
"It's really just about coming to the events and having fun," Haley said. "I just want people to come and enjoy the experience."  
Students who wish to get involved with MVOP can talk to members and attend the events. Both members and nonmembers are invited to participate in the activities sponsored by MVOP. More information regarding these events and the upcoming care shops will be available soon.