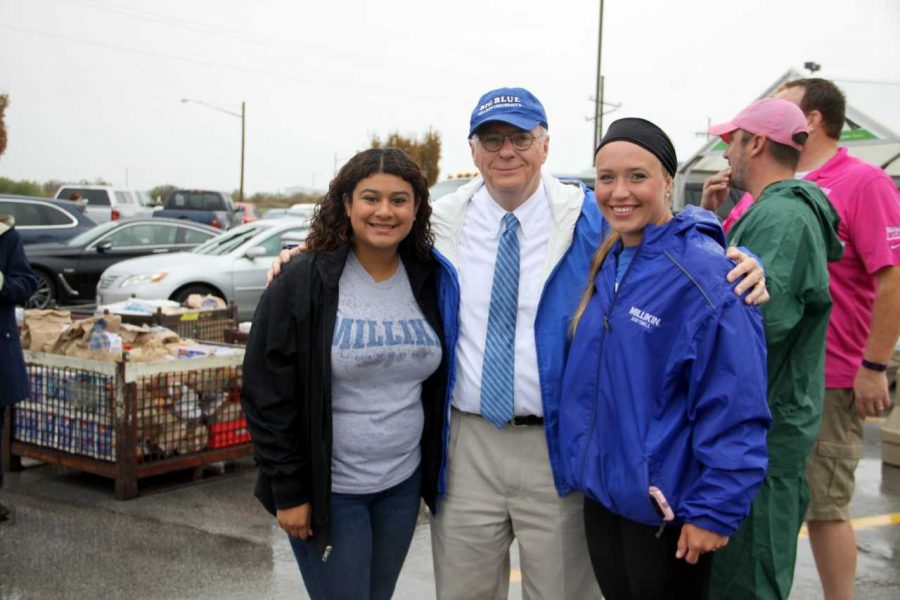 Emily Peacock
The WSOY Community Food Drive will take place on Oct. 5 at Airport Plaza Kroger. Millikin's Food Drive Collection will run from Sept. 10 to Oct. 3.
The WSOY Community Food Drive is one of the largest community-based food drives in the nation. Now on its 17th year, the goal is to collect 1.52 million pounds of food. Millikin is hoping to contribute 5,555 pounds of food.
The food drive pulls in members of the community to get involved in a number of ways. Besides donating food and money, people can also donate their time. Hundreds of volunteers are needed on Oct. 5 to unpack, weigh, and load food into semi-trucks to be distributed throughout the community. This 12-hour event will take place at Airport Plaza Kroger, and it will be broadcasted on local radio and tv stations.
In the following weeks, Millikin students will be receiving a lot of information about the food drive, and they are encouraged to participate in any way they can.
"We wanted to build camaraderie this year," Molly Berry, Millikin's Director of Inclusion and Student Engagement, said. She also serves as a member of the Millikin Food Drive Committee. "We wanted to start earlier this year and just really, really try. We're trying to get more students involved."
Millikin students can get involved through both donating and volunteering their time. Besides food and monetary donations, people will be needed throughout the food drive to help collect and load food. Student organizations will be collecting and weighing donations every Friday.  
Students can expect to see multiple collection sites across campus. Student organizations will decorate collection bins that will be placed in residence halls and academic buildings. Monetary donations can be dropped off in the President's Office, and these donations will be used to purchase additional food.  
This year, there will be a competitive aspect to the food collection that will involve the whole campus. Residence halls and academic buildings will compete against one another, and there will be weekly updates on which group is in the lead.
"I've always known about it. It's been really encouraged for Greek life because we do a competition for Greek life in order to help with the food drive," Jamey Robar, a member of Alpha Chi Omega, said. "My sorority participates. Normally we do donations, so I'll probably donate a few cans."
At the end of the food drive, the Millikin Food Drive trophy will be presented to the team that collected the most food.
Beyond Millikin, local schools and businesses will also be working to provide donations and sponsor the food drive. According to herald-review.com, monetary donations will be spent at local businesses and Springfield's Central Illinois Foodbank. Donations will benefit programs and food pantries throughout the Decatur community.  
"I volunteer every so often with Good Samaritan Inn, our soup kitchen in town…I have gone on Saturdays, in the winter, in the summer," Berry says. "I have taken students, I've taken my church group. And the line's out the door. And that's any given day – it doesn't matter when. It's families, it's working people, it's older people. What has been the most eye-opening to me is to see that it impacts students in our community."
There are many resources in Decatur available to those who are struggling with food insecurity, including the AMELCA food pantry. This organization provides food to Millikin students who present a student ID. Nowdecatur.com shows a complete list of organizations impacted by the WSOY food drive.  
"This food drive impacts our community," Berry said. "It's our neighbors, friends, coworkers, students…It's going to feed our families."