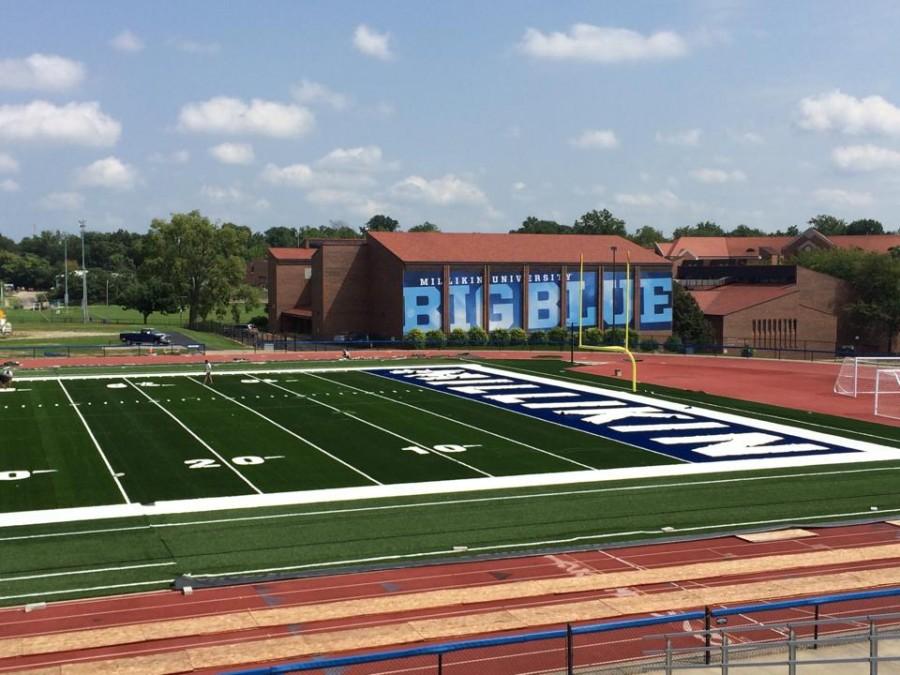 The newly renovated Frank M. Lindsay field finally had its big unveiling on Saturday, September 27. The official groundbreaking ceremony for the new turf was May 16 of this year, and the production on the field lasted until a few days before the unveiling ceremony.
There was a dedication ceremony before the football game to honor the donors who helped make renovations on the field possible. The improvements to the facility include: new artificial turf, a resurfaced track, lights for night games, and a new scoreboard with a video replay screen.
"It's my eighteenth football season here. We've been talking about getting the field re-done since I've been here. The team has practiced on it, and it's been great. I'm excited for them to experience playing a game on it. The anticipation has been eighteen years in the waiting," Patrick Allgeier, offensive line coach, assistant head football coach, and assistant athletic director, said.
It has been quite a while since a football game was played at night at Millikin. "This is the first night game since 1928, and the first ever football game to be played on turf," Patrick Etherton, head football coach, said. "I'm excited for the atmosphere, and for our kids to experience a night game and be a part of history and something special."
"I'm excited to give our student athletes the ability to play on a quality facility and thus improve their experience as a Millikin University athlete. It will leave them with great memories. [The turf] will also make us more athletically competitive by preparing us better and attracting recruits," Craig White, director of athletics, said.
The new turf is very beneficial for the football program, and also serves a functional purpose. "The most beneficial part is the ability to practice on a surface that doesn't change even if the weather does," Etherton said. Practices will no longer have to be canceled due to a field being too muddy. Even if the weather conditions aren't perfect, practice can still happen.
There is also the benefit of attracting recruits. "Kids are used to having turf at their high school, and they expect it at the college level. Now we have the best and newest turf. There's a window of opportunity now," Allgeier said.
The improved field is not just for football, however. Men's and women's soccer games have been moved to the stadium. "Since there were no lights [at the old field], games would be in the early afternoon on a weekday, when parents and most students aren't able to make it. Now, more people should be able to attend," Bryan Marshall, assistant athletic director for sports information, said. "Moving soccer up there really elevates it. We took a major step forward."
Overall, the new and improved field is beneficial for students, athletes, coaches, and fans alike. Allgeier said, "There are a lot of people who were involved with this. They've all made it the best that it can be, and I think people will really be able to see that. It's a top of the line facility now, and it's definitely something to be proud of."