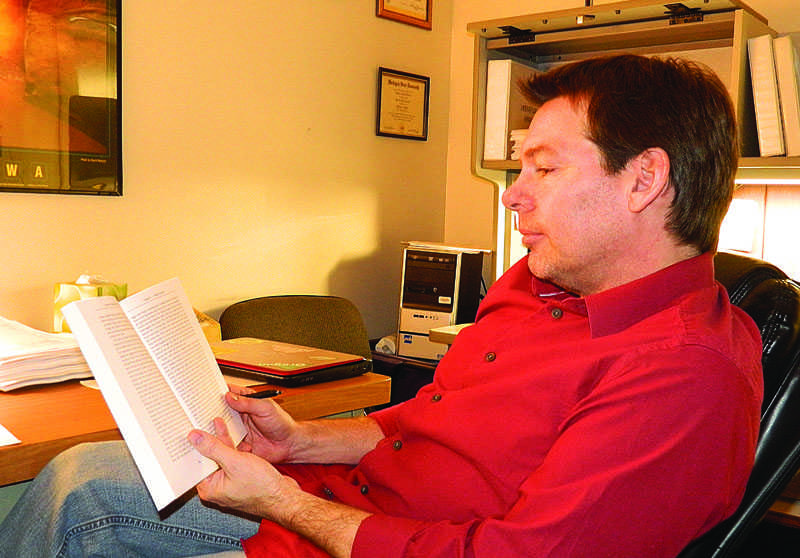 Heather Croyl
After several years of a strong and consistent inquiry for a criminal justice minor, faculty within numerous disciplines are making it happen.
The criminal justice minor program is on the move, having been approved by the College of Arts & Sciences. But, keep in mind – the minor has not officially been approved as of yet. The proposal still needs approval by the Council of Curriculum, and final approval by the Deans before the program becomes official. The Criminal Justice Minor Committee is very confident, and expects the program can be launched this upcoming fall.
"Students minoring in criminal justice will be able to take a number of courses from across campus to fulfill the minor, and will be able to concentrate their studies in this area," said sociology professor Ken Laundra. "We've been planning this minor for some time, and have also brought in new faculty to teach many of these courses, including myself, Dr. Bobbi Gentry in political Science, Keyria Rodgers from the Decatur State's Attorney's Office, and new adjunct faculty in political science. In addition, the Sociology Department is currently hiring a new full-time faculty who will be teaching courses in the Criminal Justice minor as well. We expect course offerings to grow over the next few semesters as well."
Sociology professor Dr. Larry Troy originally took the lead on developing the minor this past year, acting as the chair of the Criminal Justice Minor Committee. Unfortunately, his passing last semester temporarily put a stall on the committee's progress. The criminal justice minor is an interdisciplinary minor that is now chaired by Laundra and Gentry.
"Dr. Troy hired me to grow the sociology program, but also to expand our discipline into this area," Laundra said. "My expertise in criminology, juvenile delinquency and deviance, along with a new full-time sociology hire, and with expertise among faculty in political science and other programs, allows us to now offer a minor in Criminal Justice."
To complete the criminal justice minor, one must take a total of 21 credit hours – seven courses with three at or above 300 level. Prerequisites for the minor are Intro to Sociology and Intro to the American Political System. Core classes being offered include PO 235 Introduction to the Criminal Justice System, PO 330 Constitutional Law or PO 334 Civil Liberties, SO 361 Criminology and PO 371/SO 470 Internship. Elective classes include PH 211 Ethical Theory and Moral Issues, SO 320 Social Stratification, SO 232 Deviance, SO 311 Juvenile Delinquency, PH 310 Political Philosophy, PO 366 Appellate Legal Reasoning: Moot Court, PO 305 Philosophy of Law and PO 325 Supreme Court in American Politics.
Students with a minor in Criminal Justice are eligible for careers in law and law enforcement, policing, forensic science, homeland security, crime analyst, crime prevention specialist, court coordinators, juvenile and adult probation officer, legal research assistant, border patrol agent, victim and offender counseling, parole services, private security and various other legal careers.
Also included in the minor is a required internship, which the Criminal Justice Minor Committee is particularly excited about.
"The internship involves students working directly with local criminal justice organizations, such as the Decatur Teen Court, Truancy Court, the Decatur Police Department and the Macon County Juvenile Justice Council," Laundra said. "We have recently partnered with these organizations with the help of one of our new instructors in the College of Arts & Sciences, Keyria Rodgers, who will also be teaching Juvenile Delinquency, and who will be functioning as our site supervisor for many of these internship placements."
As of now, there is an informal count of about 20-40 students who have expressed interest in pursuing the minor and Laundra expects the minor will grow quickly due to student demand. Sophomore Taana Latu is one of those who have expressed interest. Latu is a double major in political science and sociology who is pursuing a career as a defense attorney in the immigration field.
"It [the minor] overlaps with a lot of the courses in political science I would take so I figured why not," she said. "I want to learn as much as I can about the government system."
If anyone is interested or has any questions about the criminal justice minor, contact Laundra at [email protected]