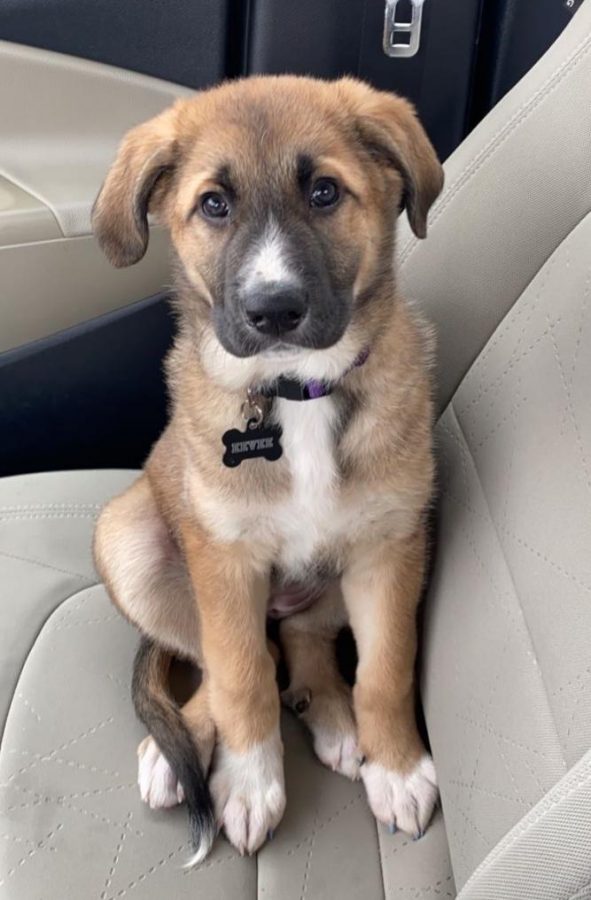 This past Christmas, Millikin senior, Marissa Hettel, got every kid's dream present, a puppy. Hettel's boyfriend, fellow Millikin student Brody Elder, surprised her with a female 14-week-old German Shepherd/Great Pyrenees mix puppy shortly after the winter holiday. 
"He [Elder] knows how much I love dogs and he knew how perfect of a gift it would be," Hettel said.
The fluffy, brown-haired puppy immediately reminded Hettel and Elder of a character from a video game they both love. The name Eevee fit her as she resembled the species from the game Pokemon so they decided they had to name her that.
Eevee is your typical extremely energetic puppy. Hettel described her as a "social butterfly." She loves to play, bite, and get into things she probably should not, as most puppies do. Hettel said that she especially has loved playing in the recent many inches of snow.
Eevee has her playful puppy side, but she also loves cuddles and meeting new people. 
"While she is a little destructive diva, she has definitely stolen many people's hearts," Hettel said.
Hettel often takes Eeevee on walks near campus, where both students and Decatur residents have fallen in love with her. Eevee also likes to take trips to Hettel's sorority house, Tri Delta, where she enjoys running down the hallways and stopping to make friends at every open door. 
When going outside, Eevee loves to eat sticks rather than use the bathroom. Both Hettel and Eevee are currently working through crate training and have (almost), as Hettel said, mastered potty training. 
Fetch by WebMD explains that puppy house-training typically takes 4-6 months but could potentially take up to a year. House-training also requires having a strict daily schedule. Being a busy senior living on campus and now having a puppy has definitely been a transition for Hettel and taken up much of her time.
Hettel is already a deeply involved student on campus, participating in Greek Life, being captain of the Sapphires dance team, choreographing for Burlesque Underground, being a member of Alpha Psi Omega, and tutoring tap for the School of Theatre and Dance. Hettel works an off-campus job as well.
Eevee lives with Hettel in an off-campus senior house with five other Millikin students. She explained that all of her roommates love having Eevee in the house and help out whenever Hettel has work, class, or extracurriculars. 
"Yes, it is definitely difficult at times," Hettel said. "Luckily, we have a lot of people willing to help out. It takes a small village sometimes. However, the cuddles at the end of the night make it all worth it."
Dogs are known to be great sources of comfort and emotional support. College can get stressful and mental health is often looked over during the hecticness of school. While having a puppy and training a puppy in college can be a difficult task, Hettel said it is all worth it.
"It [favorite part of having Eevee] is a tie between the cuddles I get and seeing people's reactions to just how cute she is," Hettel said. "I love helping people smile and if Eevee is that reason, I think that is perfect."