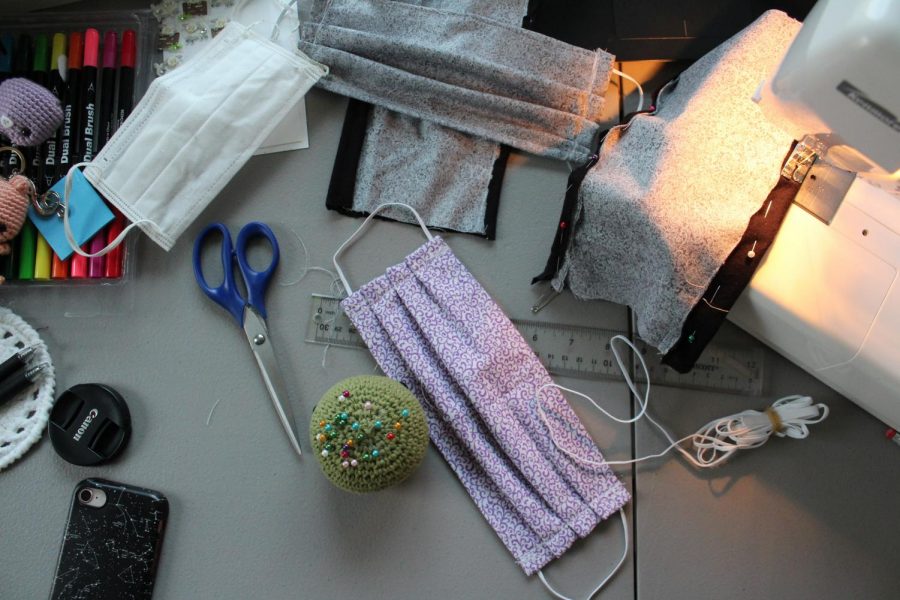 Photo Courtesy of Unplash
Many Millikin students have been creating things. The pandemic created a need for new products like masks and an environment where making things is easier and more fulfilling. These students have been selling their products, helping the people around them, and spreading a little bit of joy.
"My mom inspired me because she's always been artistic, and she wanted me to make her something," Shae Giovanni, a senior athletic training and pre-physical therapy major said. "I know how to sew because I taught myself how to use a sewing machine to make sorority letters."
Giovanni is on the Millikin soccer team and loves coaching youth sports.
After making a mask for her mom, Giovanni started making some for her coworkers, who later suggested that she start selling masks at Gender Blossom, the place that she works over the summer.
To start off selling masks, she looked for materials that were cost-effective. When she first started out, she made $150 in the first three days of selling maks.
"It's like a hobby that I'm profiting off of, almost," Giovanni said. "My favorite part is honestly picking out the fabrics because that's where I get to be the most creative; trying to find fabrics that make me think of other people." 
With school kicking into gear, juggling schoolwork and selling masks became a bit difficult for Giovanni.
"I'm finding that now, it's hard to find the time to do it," Giovanni said. "My boss texted me saying, 'Well I can't sell em if I don't have em!' and I'm like, I have three jobs, and am in school, and I play soccer. It's a little hard to find the time, versus in the summer when I had a lot of time."
Giovanni wants to continue making masks, but she wants to find a way to manage her time better. She wants to block out time to make five masks a day, which she believes would be more enjoyable than cramming everything in at once.
Finding time to make masks has become more difficult for Giovanni since school has started, but this won't stop her from creating.
"I want to keep doing it. I like sewing, it's therapeutic," Giovanni said, "Obviously it's nice that I can make these things for people to help protect them during this time. I know eventually they won't be needed, hopefully…Right now, for the foreseeable future, if people need them, why not?"
Giovanni not only sells masks at Millikin, but she still continues to send masks to her summer job.
"At Gender Blossom it's a little different because it's a different customer base," Giovanni said. "There I'm doing $10 for kids sized masks and $12 for adult sized masks. That sells really well. Especially because I use nicer materials, since I have to pre-order fabric from certain places."
Giovanni charges less for masks at Millikin than the masks she sells at Gender Blossom.
"At school, I want people to be able to buy them. I want them to be affordable, because I know we're all poor," Giovanni said.
Other students are also taking advantage of the creative freedom that the pandemic has allowed us.
Anne Longman is a junior arts technology major with a concentration in visual media. A part of her artistic journey involves creating stickers and posters and selling them.
"I had a Redbubble account, and that's where you upload your work, they put it on stuff, and people can choose to buy it," Longman said. "That was great and working pretty well, but you get a really really small percentage of the cut. They take most of it. I would make $20 and get like $1.50 from it."
After a while, Longman switched over to Etsy. Now, she has an inventory in a cute box she bought from Joann's Fabrics.Longman also sometimes sells earrings. When she isn't creating art to sell, she enjoys making art with colored pencils.
"It was a little scary the first time I did it [sold art on Etsy]  because I had to commit to buying X number of stickers for each type first," Longman said. "I was like, 'God, that means I need to invest money in it now,' but it's definitely worked out so much better because I can keep so much more of the profit. I like shipping stuff out too, it's fun to put things in a cute envelope with a nice note."
Longman initially started selling her art just for fun. Everything started when she created a Star Wars poster.
"A couple of people were like 'Hey are you going to make that into a poster?' 'Would you sell it?' and after that I kind of felt like, 'You know what? Maybe I will,'" Longman said,  "So it kind of started for fun, and then it picked up traction and I was making more money than I ever anticipated."
Longman has to dedicate a good amount of time to creating things to sell.
"It takes probably about two and a half hours to make a poster. That's about the average time it took to make the Star Wars poster. There's a Great Gatsby poster, that all took about the same time," Longman said.
Longman said that creating the designs for her stickers normally takes around forty-five minutes.
Creating art to sell and staying on top of school at the same time can be a bit of a challenge. Longman has everything pretty figured out, though.
"Sometimes it's hard to keep track of. I have to write everything down and make sure I stay on top of things so that I don't forget," Longman said.
Longman spent a lot of time over the summer getting her shop off the ground and promoting her art.
"Now since I haven't been making too many new products, I've been relying more on people going back and actually buying my things from before," Longman said. "Usually I'll take time on a Saturday or Sunday to take all of the orders I got."
Longman's username on Etsy is AnneLongmanArt, and you should definitely give her shop a visit. Her art instagram page is @longmanne_art.
Millikin students have learned resilience over these last few months. There is beauty in the different ways that we have all learned how to cope. Remember to always support your classmates and what they do.