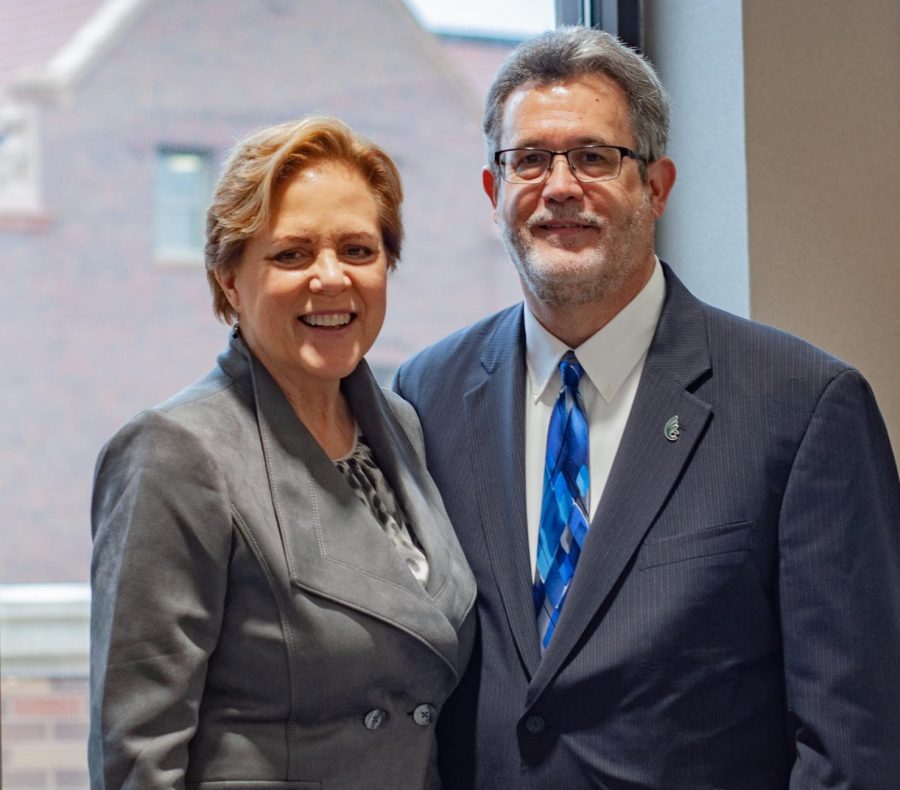 Photo by Athena Pajer
President James Reynolds, or "Jim," as he is inviting students to call him, is starting his first semester and taking circumstances in stride. For Jim, this semester is a challenge, pushing Millikin to lay a new foundation for its future.
This is important as Millikin will be creating a new strategic plan, this year. It will include goals for programming, enrollment, retention, and more. COVID-19 has forced Millikin, including Reynolds, to change their approaches. 
Reynolds has been spending the weeks before the semester to stay-fast to his 100-day plan by speaking with alumni, friends of the university, and other partners through Zoom and other distance-communication platforms.
"It's a little bit more difficult to do the kind of networking that I really like to do, but, you know, we'll manage," Reynolds said. "This is one of those years that we're just going to have to change our paradigms and think about how we can do the work that we want to do and try to make it as meaningful and as personal as we can. It's not easy, I mean, this is not my favorite way of communicating but, you know, this is what we have to work with."
That being said, Reynolds is trying to keep to the core of the plan: get to understand Millikin's culture and develop strong relationships between Millikin and the outside community. 
In terms of connecting with the outside community, he hopes to put in motion a new economic impact study to show how much money Millikin brings to Decatur per year. One has not been done in several years, so there's little way to display how Millikin impacts the economy and in what ways.
"I think that a lot of people in Decatur recognize that Millikin is very important, but I just don't think they have a realization of how much of an economic impact Millikin has on the local economy with all the students that come back and buy things off campus, and all the corollary businesses that have been built because of student traffic, and all the salaries that we pay, you know, employees here, it's really a pretty significant number, I would imagine," Reynolds said. 
He believes it would be around $50 to $75 million a year in direct and indirect impact. Clearly defining this impact, he hopes, will use faculty and student talent to form more awareness of Millikin and possibly uncover ways to make connections stronger, especially as small towns and small universities are struggling nationwide.
On the other hand, there's also the pressing question: How is Millikin going to change after the pandemic?
"For the university, I, you know, I think that we're going to have to go through this semester, and think about the changes that we've had to make because of the pandemic and figure out whether or not some of them were the right things to do or perspective of the pandemic, or whether or not these are things that we're only doing for a temporary time just to deal with the issues that we face," Reynolds said.
Some of these permanent changes might be as simple as becoming less paper-heavy as a university and some might be as deep as program and curriculum reform. 
"I'm going to work with the provost, Jeff Aper, and figure out how we can create some opportunities for faculty in their areas and I to get together so that we can just meet face to face and I can hear their comments about the positive things of Millikin and the things that we wish that we could change," Reynolds said.
This will be Aper's last year as Millikin's provost. He announced his retirement in an opening zoom workshop on Monday, August 17.
"So I know that Jeff and I will be really good partners for the year and try to work through some of the issues," Reynolds said. "What I'll need to do, it is my intention to find an interim provost for next year, so that we can do a national search. I think, with everything that's going on right now, I think adding one more task would make it really difficult."
This semester posed significant challenges to all members of the Millikin community. Reynolds, a first-generation college student, is aware that some of the most deeply impacted students will be those from lower-income backgrounds.
"I would urge or encourage students to really think about how this experience has been so important that it's worth coming to campus," Reynolds said. "We have a good plan in place. It will become better as we have a little bit more knowledge going forward. And I think all of our goal is just to have a good semester and send you all home at Thanksgiving."
He will be communicating with students with small videos, much like the one he sent to students on Saturday, August 22. 
These videos will likely include words of encouragement. He sent small videos often to students last semester when he was president at Wilmington College–especially graduating seniors–and this worked well. 
They will also work as short and frequent updates on important information as decisions are made about this semester and the next.
You know, I think we're like every other institution, we're just trying to take it a day at a time," Reynolds said. "And we're hoping that things will change by the middle of this semester so that we can make better plans for the spring. But we'll have a small group of people that are planning for a spring semester not unlike the fall semester, just so that we can have a contingency plan in place. I see glimmers of hope on the horizon."