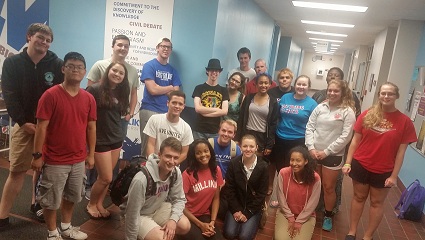 There are many student organizations on campus, but one is known for making freshman leaders right from the beginning of the year, that club is known as Student Housing Council (SHC).
SHC has been on campus since the 1980s and was even lead by Paul Lidy back in the day. SHC is presently led by Lexi Leggs, a sophomore music education major. Assisting her is Vice President Sabrina LeBlanc. The mission of SHC is to bring the sense of home back into the residence halls while helping freshmen develop as leaders.
The way SHC has worked in years past is that one or two hall representatives from each floor of each residence hall are selected to serve as a voice for their selected floor. In the past SHC has done various tasks, one including getting a foosball table for a lounge in one of the residence halls.
SHC is known for their programming. Some of their bigger events include, Halloween in the Halls, Condom Bingo and Splash Bash.
Halloween in the Halls is the organization's first big event of the year where hall representatives decorate their floors for a scary or non-scary theme, and children of Decatur come and trick-or-treat through the halls and admire their decorations, then a prize is awarded to the best scary and non-scary floor. Condom Bingo occurs around Valentine's Day and is just what it sounds like, free condoms, prizes and a lot of fun. Splash Bash is the organization's newest big event after having their first Splash Bash last year. This event occurs in the spring right before the end of the semester to help students cool off before taking their finals.
This year SHC hopes to kick it up a notch and include The Woods into their programming since the influx of residents of the Woods.
When asked about the upcoming programming, LeBlanc said, "We have a lot planned this year for programming, we want this to be our biggest year ever."
When asked about joining the SHC team LeBlanc said, "We're totally open to new members, we want dedicated creative people who want to make a difference in the residence halls. SHC is a great way to work closely with Res Life and get your name out on campus. You really become a leader in SHC."
SHC can be found on Facebook, Instagram, Twitter, and Pinterest and anyone interested in joining can email SHC's president, Lexi Leggs at [email protected]