Sophie Kibiger
Back in April, I wrote an article about how quarantine allowed me to get back in touch with my creative side. I began painting again, and I used art to cope with the craziness of the world around me. Just about four months later, I'm still creating, and I've found that art has become the one thing getting me through these trying times.
I started the summer doing random commissions based off of prompts I would post on Facebook. I would ask people for three colors and an emotion and build a painting off of that. Those commissions gave me more exposure online, and soon other commissions started coming in. People requested family portraits, celebrity sketches, landscape paintings. The variety kept things exciting, and my inbox began to flood.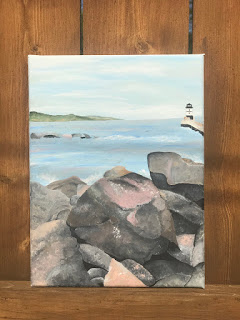 I created an Instagram account for my art so that people could follow my progress as I worked on new pieces. Through that account, I've connected with artists from all over the globe who work with all different kinds of mediums. They've given me tips on how to improve my craft and shown me support every time I post something new. Even though I was stuck inside, unable to work my typical summer job, go to the lake, or even think of seeing my friends, I wasn't as lonely as I expected to be. I never thought that quarantine would be the time that I met new people.
This summer has been a wild ride for me personally. I moved to the city, made the decision to stay home this semester, and somehow managed to not get the coronavirus (it's simpler than you think- just don't go outside). I spent almost all of my summer inside painting or drawing. I didn't have anywhere to go or anything else to do, so I built on my craft. I started to push myself by taking in more challenging commissions.
The piece on the left was my favorite commission I did this summer, a memoriam piece for a girl I knew in middle and high school. Doing this piece gave me unexpected closure for a situation I hadn't realized had stuck with me for the past two years. This picture is of the shoreline in Duluth. Coincidentally, this exact spot is where my father spread the ashes of his best friend a few years ago. I like to hope that seeing this painting gave him a little closure, too.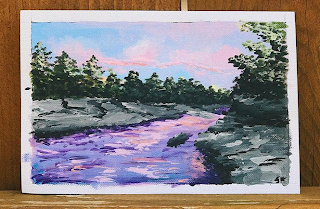 Still, the decision is hard for me. Of course, I want my college experience back. I want to hug my friends, go on coffee runs, and sit in the library mindlessly for hours. But I know that even if I went back, it wouldn't be the same. If I stay home, things can stay pretty much the same. So I chose consistency- breakfast takeout, family, and a creative space.
This summer, art was my escape. I took something that I'd never really been that good at and owned it. I spent all of my time getting better, learning, and opening myself up to a new part of me. I shut the scariness of the world out by spending hours and hours in front of a canvas, pouring my heart into every piece I made. As dark news of death, continued isolation, and uncomfortable change flooded my ears, I saw colors. Though I don't know what the future holds, and I fear that things could get worse before they will get better, I will continue to find comfort and joy in my art. Artists are helping bring light back into our dark world, and I am so happy to be a part of that.