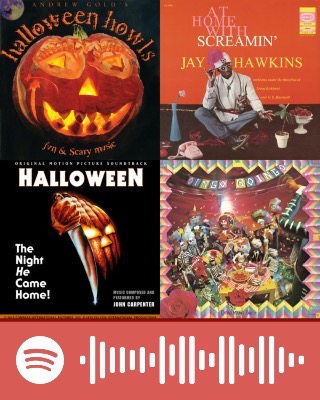 Spotify
It's spooky season and Millikin's campus is surrounded with creepy crawlies, sugary treats, and horrific sights as the fan favorite Halloween approaches. After a brief hiatus, Caleb's playlist is back and ready to celebrate this frightening holiday! Sit back and relax, but don't get too comfortable because creatures may be near as this month's playlist is sure to terrify every listener.
"Halloween Theme – Main Title" – John Carpenter: Yikes! This playlist is already too scary because Michael Myers is kicking it off. For the listeners who can handle it, John Carpenter's classic theme for the blockbuster movie, "Halloween," creates a terrifying atmosphere but contains the right amount of fear along with creativity as the listener can't help but to listen and watch for more.
"I Put a Spell on You" – Screamin' Jay Hawkins: This horn-centric spooky classic takes a more upbeat path towards frightening listeners all over the world. Screamin' Jay Hawkins' vocals capture the scary environment with spine-tingling lyrics and harmonies that will have anyone on the edge of their seat. Accompanied by eccentric horn licks, "I Put a Spell on You" is bound to creep anybody out.
"Spooky, Scary Skeletons" – Andrew Gold: This children's classic has found itself to be featured almost anywhere as Andrew Gold describes a situation that would drive anyone insane. "Spooky, Scary Skeletons" offers playful melodies, disgustingly detailed lyrics, and an infectious beat.
"Dead Man's Party" – Oingo Boingo: With a little less of a spooky approach, Oingo Boingo's alarming tune takes on a unique yet frightening concept. "Dead Man's Party" features a steady groove with hypnotic guitar riffs, deceaseful lyrics, and a distaste in one's mouth. Try not to listen to this tune before or after eating.
"The Munsters" – The TV Theme Players: This could definitely be considered one of the better television shows from the twentieth century and no one should be complaining about that. "The Munsters" captured the hearts of many literally and maybe even figuratively. The TV Theme Players help recreate this iconic television show with a rendition of the theme that sparks up past memories.
"Pet Sematary" – Ramones: This tune is much different than the others, but the Ramones' rock hit still finds itself being recognized and reminisced during spooky season. "Pet Sematary" brings up odd yet understandable thoughts because no one wants to be buried in a pet cemetery, let's be honest. The Ramones' relatable song contains charismatic qualities along with an overall justifiable chorus that others will plead it being correct.
"Dracula's Wedding" – OutKast, Kelis: The hip-hop duo that created so many former top hits on the Top 40 charts continued their success with this terrifying hit that features Kelis. "Dracula's Wedding" will have anyone scared for their life if put into that situation and the accompaniment of raspy vocals along with goosebump insinuating lyrics helps the case in being a quite frightening tune.
"Sweet Transvestite" – Tim Curry: From the underground smash movie, "The Rocky Horror Picture Show" starring Tim Curry, this tune has become a staple in the celebration of Halloween in America. "Sweet Transvestite" offers incomparable lyrics that are accompanied by powerful horn lines, cringy vocals, and a horrifyingly good concept of a film.
"Burn The Witch" – Queens of the Stone Age: Take cover because the Queens of the Stone Age are out on the prowl this Halloween season! "Burn The Witch" covers a tale of witches that are on the hunt and deserved to be burnt to smithereens. Queens of the Stone Age's haunting tune consists of shivering lyrics and eye-opening guitar riffs as the witches could appear out of nowhere.