Kaela Says: Add This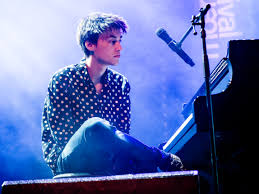 This week for "Kaela Says: Add This," I will be talking about my favorite male artist to ever live: Jacob Collier.
Jacob Collier, or his real name Jacob Moriarty, is a grammy award-winning singer, arranger, and instrumentalist. Jacob was born on August 2, 1994. He was born and raised in a family of musicians in North London, England.
Jacob Collier is an internet sensation who was first discovered from posting one-man harmony videos at only 17.
Collier can play a wide range of instruments. He can play anything from the keys to string instruments to percussion. He is an exceptionally talented musician with a wide vocal range that allows him to create a giant range of music. His parents and grandparents are violinists which had a big impact on him as a child.
In his early years, he was well known for doing covers of artists like Stevie Wonder, Burt Bacharach, and George & Ira Gershwin. Although he is currently enrolled at the Royal Academy of Music as a jazz pianist, he's done so many things pertaining to vocals at the Technology's Media Lab.
Collier's album "In My Room" reached number three on the Billboard's Jazz Albums chart. He has two Grammy awards for his outstanding arranging: particularly his arrangements of Stevie Wonder's "You and I" and the famous Flinstone's theme song. He's also won two Jazz FM Awards for the PRS Music Gold Award and the digital initiative of the year award.
He's appeared on Snarky Puppy's album, was one of the surprise guests at Quincy Jones' eighty-fifth birthday party, and so many more amazing things.
Ben Bloomberg reached out to Collier in hopes to create music software for his live performances. Over five months, they constructed an entirely new experience for his audience. Jacob could now sync real and live 3D loops projected on a screen. He's been touring internationally for years and is arguably one of the most talented musicians of our time.
Collier writes and arranges a wide range of music genres. His most defined genre of music is jazz and pop/rock. He has composed a lot of jazz-funk, crossover jazz, acapella, contemporary pop/rock, and vocal jazz.
Jacob Collier currently has three albums released alongside his many arrangements and solo pieces. His first album "In My Room" was released July first in 2016. His next two albums are part of a project he's still currently working on.
Collier is working on coming out with four volumes of his Djesse theme. So far, he has Djesse volume one and volume two released. He decided to split Djesses into four volumes so each volume represents a different time of day.
My personal favorite songs from him are "In My Room," "Make Me Cry," "You and I," and his arrangement of "Every Little Thing She Does is Magic." His music is life-changing. He has a talent for creating music that speaks to people.
I really like "In My Room" because the beginning sounds are all made from objects found in a bedroom. It's such a clever idea that enhances the song. It's very laid back and provides such an amazing feeling.
You can tell Jacob Collier has found the emotion in harmony. He inspires me to be a better musician. He is so musically inclined and has definitely made a mark in the music industry.
I hope that if you haven't already, you give Jacob Collier a listen. His music can be found on all major platforms. I wish you find his music as life-changing as I do. Thank you, Jacob Collier, for your unbelievable talent.