Kaela Says: Add This
This Week's Artist: YEBBA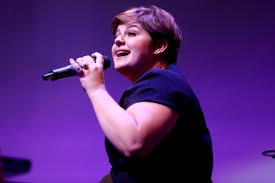 My name is Kaela Adams, and I am a freshman vocal music education major. My new weekly column, "Kaela Says: Add This," will feature a new artist every week that I think you need to add to your everyday playlist. I love to share music that has changed my life in some way with others in hope to move them too.
To start off this new trend, I thought I would start with one of my favorite artists of all time: YEBBA. YEBBA, or Abbey Smith, is a Grammy-Award-winning singer who has truly changed my life. Her vocals are out of this world.
YEBBA has come out with three singles. My personal favorite is "My Mind." If you go on Youtube and search "YEBBA My Mind," it should pull up, and your life will be changed.
This song is filled with pure emotion. It really shows off her voice. She has some of the best vocals I've ever heard. Her lower register is so full, and her voice is so free and flexible. Her Sofar Sounds performance of "My Mind" captures her utter love for what she does. If you're looking for a good cry, that's your song. The song can be found for free on YEBBA's website.
Her second single is called "Evergreen," which is an absolute bop. She came out with "Evergreen" in 2017, and it can be found on all major platforms. "Evergreen" really captures a story. You can tell the song means a lot to her. If you know her past, you'll know that it does.
One week after YEBBA performed "My Mind" at Sofar Sounds, her mother commited suicide. This was unbelievably hard for her. In loving memory of her mother, she put the song "My Mind" up on her website for all her supporters to download for free. Shortly after this is when she changed her name to YEBBA: a nickname her mother used to call her, which is "Abbey" backwards. "Evergreen" was the next appearance of YEBBA. This song encaptures YEBBA's emotions, and it's definitely a daily play for me.
YEBBA's most recent song, "Where Do You Go," came out this year on all major platforms. She wrote it in her mother's childhood bedroom shortly after she passed. This song has so much feeling and jaw-dropping vocals. I definitely recommend giving it a listen. This song is definitely different than what she has put out before, but it is just as breathtaking.
YEBBA only has these three singles at the moment, but will hopefully be coming out with more shortly.
YEBBA has collabed with a lot of famous artists. Her most famous collabs include "How Deep is Your Love" with PJ Morton, "No Peace" with Sam Smith, three songs with Mark Rorison, and "Best Part of Me" with Ed Sheeran. This year, YEBBA was nominated and awarded a Grammy for her collab with PJ Morton in "How Deep is Your Love."
YEBBA is a big supporter for mental health issues, and she has a link set up on her website to donate to those suffering from mental illness. She has such a big heart and such a natural affinity for music. I highly recommend you give her music a listen. It would mean a lot to her.
No matter what music genre you are into, I strongly believe her music will move you. I am excited to see what else she has to share with the world. I look up to her for how strong she is and will continue to support her and her music. Thank you, YEBBA, for your wonderful music. You truly are one of my favorite artists of all time.