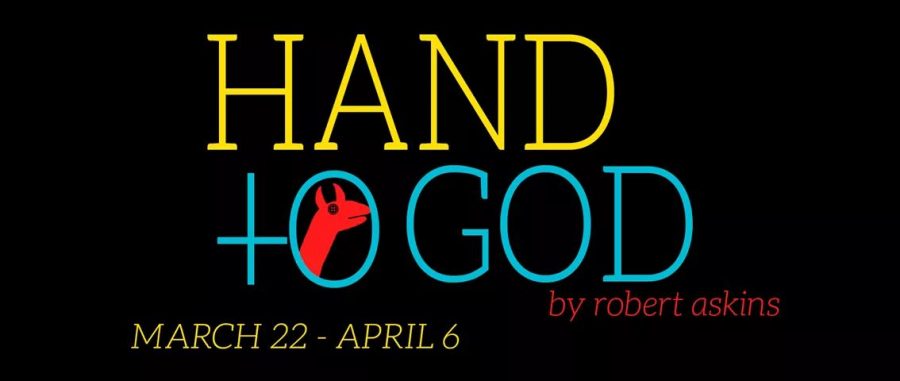 Photo Courtesy of Pipe Dreams Studios
Throughout the 2018-2019 school year at Millikin, Pipe Dreams Studio Theatre has produced several successful shows. With each one, more and more audience members leave the theatre starstruck by their fellow peers and classmates. With the spring 2019 semester, Pipe Dreams has two big shows in store.
The first show for this semester will be "Hand to God" by Robert Askins and will be directed by Blake Murphy, a senior Theatre Administration major on campus. Starting on March 22 and running till April 6, "Hand to God" will be providing more of a suggestive hand rather than an open hand to each member of its audience.
Murphy's description of the show provides details about the male lead, Jason and his sock puppet "Tyrone" whilst being in a predominantly Christian household.
After the passing of Jason's father, him and his mother have to find their place. For Jason, sock puppets create somewhat of a tranquil space for him. With his puppet, the term described by Murphy "possession" becomes brought up and discussed, in a way.
Margery, played by Payten Humphreys, and Jason's mother has a Christian Puppet Ministry in the small devoutly Christian town, Cypress, Texas. Jason, played by Elliot Mahon, finds an outlet and a home in his mother's puppet ministry.
Murphy describes Tyrone as "foul-mouthed and radical" and believes it is entirely up to the audience's interpretation on who the lead may exactly be. Murphy asks the audience to "come see the show and that will tell you who the lead is" although Margery and Jason do tackle and star in the majority of the show.
"Hand to God" as described by Murphy is "so kooky and should make anyone feel warm inside" as each scene has its odd and spontaneous features wrapped into every moment. Murphy believes the play highlights that people in today's age tend to "use Christianity to hide their dirty laundry" and has tried mightily to pinpoint this factor throughout rehearsal and tech of the show.
A personal interpretation seems to be integral when viewing "Hand to God" as Murphy wants this "unit of art" to be up to solely the viewer and their own opinions rather than the actors persuading them to lean one way, but instead be able to just tell their story, their life experience in a simple manner and even with sock puppets.
Murphy isn't afraid if the audience isn't quite into the show and warns them that the show is somewhat triggering and explicit. He invites them to come out and discover and question what religion exactly is.
"Hand to God" is an unsophisticated and simplistic piece of art that happens to be quite humorous and silly if one lets it be that way.
Pipe Dreams' "Hand to God" offers numerous possibilities as to what is in store for the viewer. Murphy himself became careful with his words to describe what the show truly entails or what occurs throughout as he personally wants the viewer to formulate their own opinions and experience it firsthand.
"Hand to God" will explore the multiple regions and depths of religion and Christianity, specifically while focusing on capturing the true essence of this work of art. From light humor to in-depth controversies over Christianity to radical silliness, expect "Hand to God" to be a riveting, journeying, and life-questioning show that will surely keep the audience intact with every slight mood change and door that opens or closes.
Opening day couldn't come soon enough for this show that is expected to blow people away with not only its humor yet its raw, daring, and possibly thoughtful attack on religion itself. "Hand to God" has been processed and put into development by being considered a true work of art that, in reality, is simply a silly play that covers so many deep and opinionated topics. Be prepared to laugh your socks off, question your reality and religion, and experience the rollercoaster of simplistic emotions that is "Hand to God."