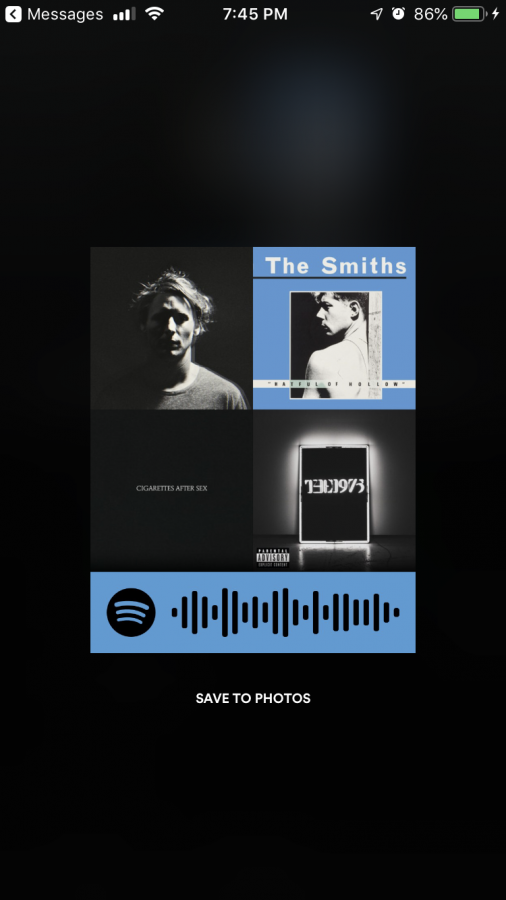 Since the expansion of the University Commons on campus, Millikin's hotspot has become the refreshing and quite busy Common Grounds Cafe. With lunchtime being popular times to go grab a delicious Starbucks-esque coffee, the customers can hear a nearby radio playing music throughout the cafe. For this week's playlist, let's give the cafe some classic coffee shop vibes with grooves for all the dark, light, and even medium roast lovers.
"Menswear" – The 1975: Laid back vibes with clips of groovy electronic riffs create this atmosphere perfect for easy going dark roast lovers. As Matty Healy's vocals fill up the surroundings halfway into the tune, the listener becomes swallowed whole into the chill and peaceful coffee shop. "Menswear" releases wondrous smells of a dark and smooth classic cup of coffee.
"Sweet" – Cigarettes After Sex: The delightful and treacly vocals produce this effervescent sound that spans across the shop and flows into each listener's ears. "Sweet" establishes this sense of romantic gestures, meaningful lyrics, and vibes that directly point towards dedicators to a light roast espresso.
"In Dreams" – Ben Howard: Using the acoustic setting to an advantage, the coffee shop turns the other direction whilst hearing the strum and plucking of guitar. Mixing in the subdued and distorted vocals of Ben Howard, "In Dreams" builds this simplistic, attention grabbing, yet perfect background music, tune and adds in creamy lyrics and a groove that becomes swallowed by low fat milk. Ben Howard's delicious creation delivers a tasty, warm double shot espresso with a few squirts of caramel.
"Please, Please, Please Let Me Get What I Want" – The Smiths: The sugary and extremely chocolatey Java Chip frappuccino seems to be the ideal fit for The Smiths' peculiar yet ironic indie tune. "Please, Please, Please Let Me Get What I Want" deliberately describes the situation of the listener as they beg for a candied and syrupy caffeinated drink that not only fills their desire for sweetness, but for smooth, flowing lyrical lines of chocolate syrup.
"Someone To Stay" – Vancouver Sleep Clinic: There isn't a dire need for caffeine here as the music speaks for itself, but a classic medium roast matches with the not too heavy or light grooves, melodious riffs, and lyrics of absolute truth and creaminess. "Someone To Stay" offers the opportunity to add a little bit of cream in with the already velvety and sleek cup of coffee.
"Feelin' The Same Way" – Norah Jones: With silky vocals and lyrics that generate throughout the soul, Norah Jones prepares a light and easy iced or hot cup of caffeine depending on the listener's preference. "Feelin' The Same Way" concocts a vanilla latte with a shot of the listener's preferred syrup and shoots vibes of deliciousness and delicacy as Jones' vocals surround the room and latch onto the listener by establishing this sense of remembrance because people constantly find themselves in spots and ruts similar to this one.
"Hold You in My Arms" – Ray LaMontagne: Coffee becomes the fruit of the soul in a scenario where Ray LaMontagne's peaceful and eloquent vocal-heavy tune blossoms inside a coffee shop. Every cup of sweet, light, or dark caffeine becomes influenced with this sense of longing and wanting, with bits of soul and folk laced into every drop that flows down the esophagus. "Hold You in My Arms" doesn't provide or resemble a drink for the listener, but rather is the drink that fuels them for their day and implants grooves of delicate tastes and shades that span from light brown to the darkest of blacks.
"Emoji of a Wave" – John Mayer: The simplistic groove and repetitive guitar riffs set the stage for Mayer's vocals to enter with such certainty during the chorus. The lyrics symbolize so much resemblance and familiarity in the listener's everyday lives. "Emoji of a Wave" represents the fancy designed cappuccinos one purchases at a local coffee shop where every drink is unique and made with passion.
"Collide" – Howie Day: This mid-2000s classic instantly brings back memory after memory. Coffee shops all over the country cling on to this insanely catchy and quite uplifting light rock ballad that contains a constant groove, vocals of poise and delight, and lyrics that provide the whip cream for the espresso that was ordered. Between light and medium roast, "Collide" consists of appealing and memorable melodies and lyrics that become consumed by the listener.